Japanese Schools Supporting a Path to Success After Graduation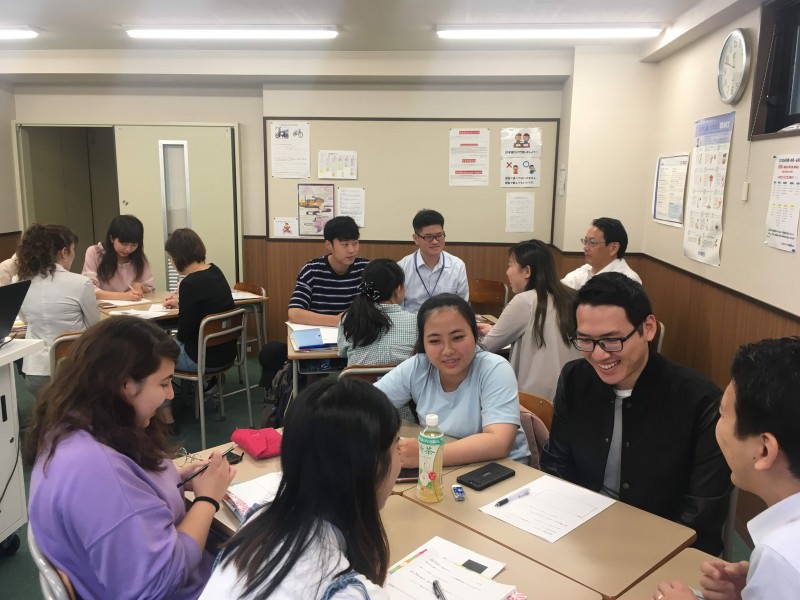 As a student at a Japanese language school, have you figured out what you'd like to do after graduation? Most of you probably want to put the Japanese you've worked so hard to learn to use after you leave school, too.
Many Japanese language school students may be considering going on to study at university, or at a vocational school, while many others may be considering trying to find a job after school.
The team at Study Kyoto Magazine recently visited Kyoshin Language Academy, a Japanese language school in Kyoto, to get a peek at its information sessions for students looking either to continue their studies, or to start job-hunting.
Job-Hunting Sessions & Information Sessions from Vocational Schools & Colleges
Kyoshin Language Academy offered two different types of informational events for its students: for those who hope to continue their studies in a Japanese university, and for those who either wish to enter a vocational school, or to enter the workforce in Japan.
The following ten schools participated at the university information session: Kyoto University, Kyoto Sangyo University, Hanazono University, Kyoto Gakuen University, Ryukoku University, Doshisha University, Kyoto Bunkyo University, Bukkyo University, Kyoto University of Art and Design, and Kyoto Koka Women's University.
The second information session was attended by the following companies and vocational schools.
Vocational Schools: Kyoto Institute of Design and Taiwa Gakuen
 Companies: Day Alive, Inc., Flat Agency, Inc.
At the Information Session for Vocational Schools & Job-Hunting
Study Kyoto was able to visit the second information session, with information on both trade schools and companies.
First, Introductions from the Vocational Schools and Companies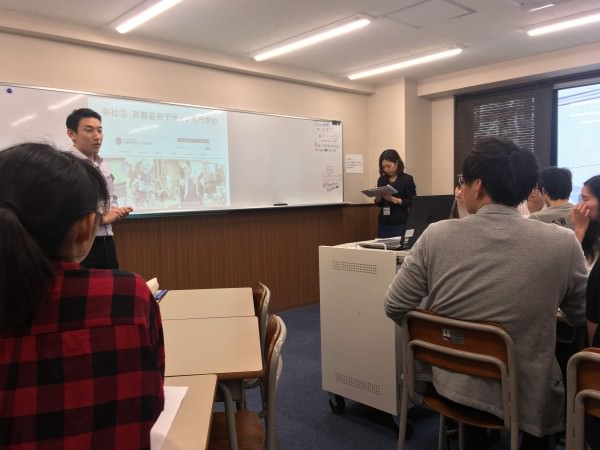 The session began with self-introductions from the school representatives and non-Japanese employees working at each company. The guests stood in front of the students and gave them a bit of an outline of their respective school or company, what a typical working day looks like, and the foreign employees spoke about their experiences since coming to Japan.
To help give you a bit of an idea, here's an outline of the participating vocational schools! You yourself may be interested in studying some of these subjects in the future, so we highly suggest taking a look.
Kyoto Institute of Design: This school teaches basic skills required for employment over the course of a two year program. The five available courses are the Visual Design Course (for web and graphic design), Comic & Illustration Course (for manga, book illustrations, and game design), Interior Design Course, Creative Fashion Course, and "Meister Let's" (handmade crafts, accessories, bags, etc.) Course. These courses don't only teach students how to create their pieces, but also how to turn them into businesses.
Taiwa Gakuen: This school group includes the Kyoto Nutrition Academy of Hospitality, the Kyoto Culinary Institute, the Kyoto Pastry & Bakery Arts College, and the Carriere College of Hotel, Bridal & Travel Management. Many non-Japanese graduates of these schools have taken their studies back to their home countries to open their own restaurants, or to work in hotel and travel industries.
Day Alive, Inc: A web promotion company that specializes in creating tourism-related multilingual websites. The company's work is characterized by the creation of content specifically from the perspective of overseas visitors, and includes projects to support international students.
Flat Agency, Inc: A real estate management company. Flat Agency is actively involved both in the administration of some of Kyoto's traditional buildings, and with renting assistance for international students (F-Support), among other projects.