How to Study Japanese 1 (Part 2)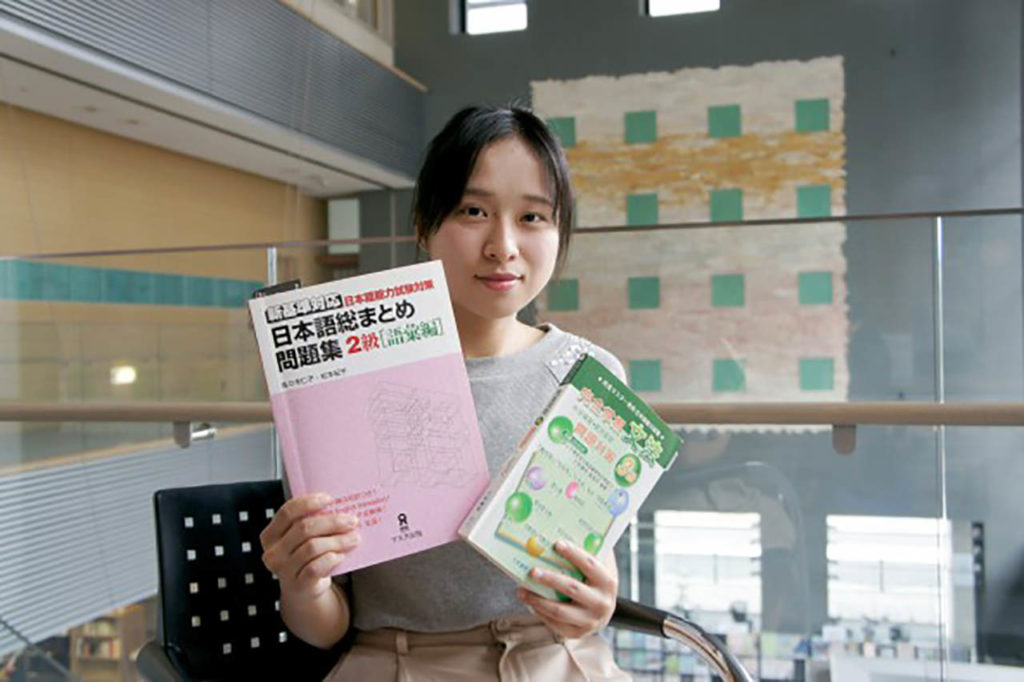 Ms. Rae Lin with some of the textbooks that have helped her in the past.
What to use when studying Japanese?
Q: Were there any Japanese books, manga, or TV shows that helped you study?
A: For beginners, I'd recommend just listening to the news casually, because the Japanese they use is very clear and precise. Other than that, I think if you want to keep studying for a long time, any book or TV show is a good idea if it's something you like. A lot of my friends from Europe and America like samurai movies or anime. A lot of people learn Japanese just by getting totally involved in something they're really interested in. It's great to go after what you love.
When I suggest listening to the news, by the way, I don't mean listening to catch every word—just having it on in the background while you're doing something else. It's easier to develop a bit of a habit of it that way.
Q: Are there any apps you'd recommend?
A: It's a little expensive, but I'd recommend the dictionary app, Daijirin. It's actually the same price as the print version, but I think the app version is more useful. My younger classmates often ask me if they should buy an electronic dictionary, but I think as long as you have the app, you don't really need one. If you are going to buy an electronic dictionary, I think it's better to buy one after you've come to Japan. The design of the Japanese dictionaries is better, and they're cheaper in Japan, too.
Q: What do you think is difficult about learning foreign languages?
A: Day-to-day conversation is no problem for me, but if I want to express my feelings in greater depth, I do feel like I don't quite have the vocabulary. When I was a senior at Ryukoku, and I went to Denmark as an exchange student, I definitely felt that way. In Denmark, there was a popular debate show on TV, and when my Danish friends debated, they switched to their native language. When I was there, they would try to use English so that I would understand.
When people around me are having a discussion in English or Japanese, I often feel that by the time I've finished putting my thoughts together into words, the conversation has already moved on. I can talk about superficial things easily enough, but I do feel frustrated when I feel like I can't have deeper conversations. I've had lots of that sort of frustration.
New opportunities in Kyoto
Q: You're studying for your master's degree now. Do you have opportunities to do presentations in Japanese?
A: I do, yes. But even before now, since 2009, I joined the Kyoto Prefecture Friendship Ambassadors, and gave speeches at international exchange events. Once, I had to introduce myself and my country to an audience of two hundred elementary school children, and that was definitely good practice.
The first time I did it, I was looking at a script, but halfway through my mind went completely blank, so I stopped using them after that.
Instead of saying exactly what I'd decided to say before my speech, I could say what I thought as I went along, and that somehow took a lot of the pressure off of me.
Q: Can you tell us more about the Kyoto Prefecture Friendship Ambassadors?
A: I saw an ad for it on a bulletin board at school. I had to pass two interviews at school, and two more with the prefecture before I could join in 2009.
The Kyoto Prefecture Friendship Ambassadors has been around for about twenty years, and it gave me a lot of opportunities to participate in international events, so I think it's a really good experience.