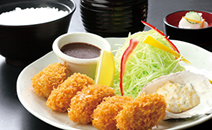 Set meals
Set meals feature a meat, fish, or other main dish complemented by rice and soup (miso soup), and are a favorite among students and office workers alike for the impeccable nutritional balance they provide. As Kyoto is a college "town," there are inexpensive and delicious set meal restaurants everywhere you go. You can even find set meals at college cafeterias.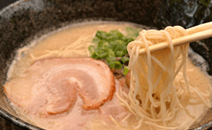 Ramen
Ramen is now a very popular food around the world, and Kyoto has no shortage of ramen restaurants. A plethora of ramen restaurants can be found in the Kyoto Ramen Koji and at Kyoto Station as well as in the Kyoto City Sakyo Ward Ichijoji area.
Tenka Ippin, one of Japan's most famous ramen restaurant chains, got its start in Kyoto.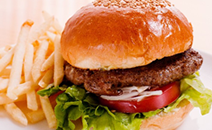 Fast food
Along with global fast food chains like McDonald's and Kentucky Fried Chicken, there are beef bowl, curry, udon noodle, and other fast food restaurants particular to Japan. There are lots of items on the menu, service is fast, and prices are cheap. Some places do not close until late night or even sun up.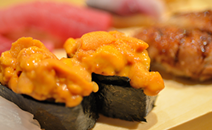 Sushi
Some might see sushi—Japan's most famous culinary export—as being a luxury food. But while there are upscale sushi restaurants, there are also plenty of places to get relatively affordable sushi, including supermarkets and conveyor belt sushi restaurants that offer dishes for as little as 100 yen.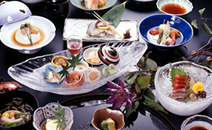 Kyo-kaiseki (Kyoto-style Traditional Multi-Course Meal)
Kaiseki refers to artistic and elegant seasonal Japanese dishes. Kyoto style kaiseki, or Kyo-kaiseki, is traditionally prepared in a variety of ways and consists of vegetables grown in Kyoto and dried salted fish brought into Kyoto from the faraway sea. Kyo-kaiseki is a good way to enjoy fresh, seasonal Kyoto cooking.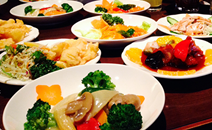 International and halal foods
There are many places offering foods from other countries such as China and India. Many Muslim-friendly restaurants have started business in Kyoto in response to an increasing number of Muslim international students and tourists.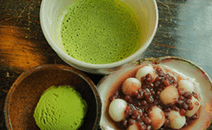 Sweets
The Japanese-style sweets of Kyoto are a favorite among young women. Known for its green tea, Kyoto has many shops that sell sweets made from it. Some of these shops are so popular that people line up for them every day. There are also many specialty stores that sell things like parfaits, snow cones, and warabimochi.
the Kyoto Restaurant Association's website
Head over to the Kyoto Restaurant Association's website if you would like to know more about Kyoto cuisine.
Refer to STUDYKYOTO MAGAZINEs as well!