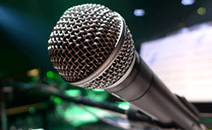 Karaoke
Just as there are many students in Kyoto, there are also many karaoke bars. They offer a large assortment of foreign music as well as Japanese music.
The majority are open 24 hours and offer food and beverages.
You will usually pay by the hour, but flat fee options are also available.
Oftentimes, students can get discounts by presenting their student cards.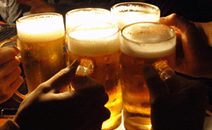 Izakaya restaurants
These establishments serve beverages ranging from beer and chu-hai to Japanese sake. Focused mainly on Japanese food, izakaya offer a variety of dishes and generous portions, with chain restaurants offering comparatively reasonable prices.
Visitors can try uniquely Japanese foods such as yakitori and sashimi.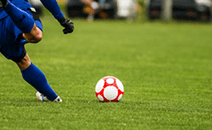 Sports bars
Kyoto has a number of bars where you can catch a game. These bars feature TVs mounted on the walls where you, your friends, and the people around you can watch the game and cheer on your team.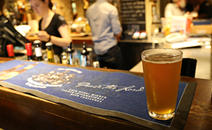 Pubs
Activities at Kyoto's pubs include parties held to promote international exchange.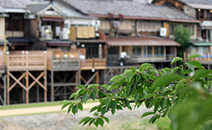 Noryo-yuka
A feature of the Kyoto summer, noryo-yuka are terraces at restaurants or cafés for enjoying a cool evening breeze. Guests are served food as they sit above a river or in some place with a view of a river.
From May through September, visitors can find noryo-yuka in Kyoto along the Kamo River and in Kibune, Takao, and Takagamine. The weather cools down in the evening and at night, and the views are splendid.
*You must be at least 20 years of age to drink alcohol in Japan.
Most stores will ask to see identification in order to verify your age.
Should an individual engage in underage drinking, an adult who is present and responsible for the individual will face criminal punishment.
Areas with a fun nightlife
Refer to STUDYKYOTO MAGAZINEs as well!