Kyoto international students went on a soybean harvesting tour!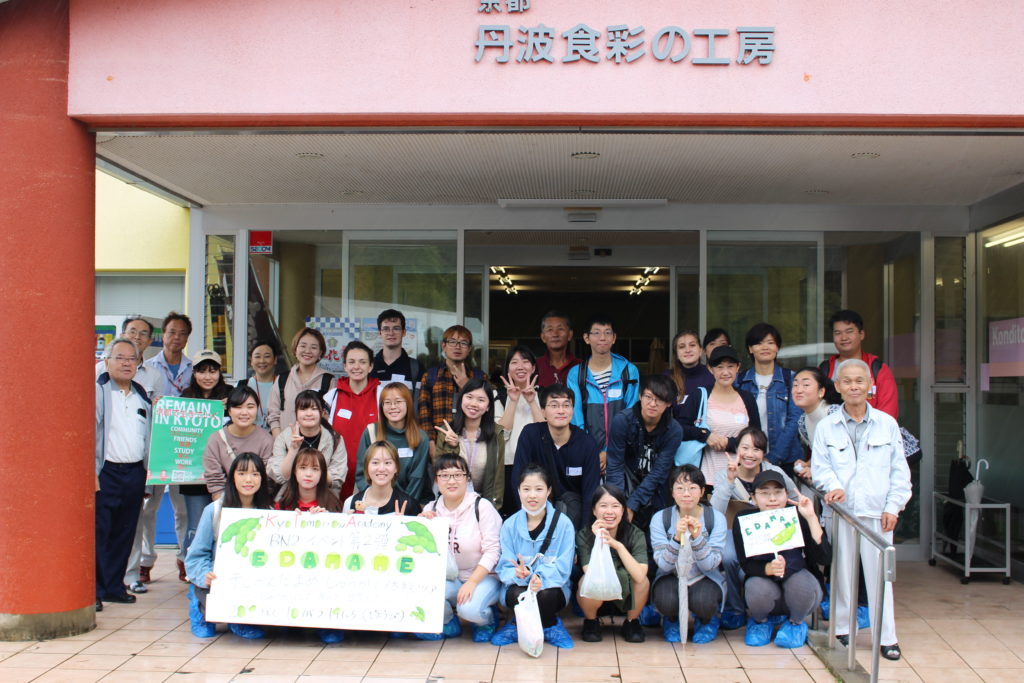 On October 19, 2019, "BN2 (Beyond N2)" organized an autumn soybean (edamame) harvesting tour to harvest, eat, and explore.
"BN2" is a Japanese language study group formed by the Consortium of Universities in Kyoto administration. Japanese students and international students study together with enjoyable conversations in Japanese.
https://www.studykyoto.jp/kyotomorrowacademy/en

On the day of the tour, we head out from Campus Plaza Kyoto, and board a bus to the town of Kyotamba.
After trying our hands at harvesting the black soybeans that are local products in Kyotamba's Takeno area, we went to see a traditional taiko drumming and puppet theater performances. Kyoto is well known for its traditional architecture, but this was a great chance to get to know more of Kyoto's unknown wonders and traditions!
This time, we'll be sharing with you the details of the soybean harvesting that was mostly likely a first for our international students!
Off we go!
When we set out, the skies were unfortunately grey, but the students were excited for their first experience of harvesting soybeans!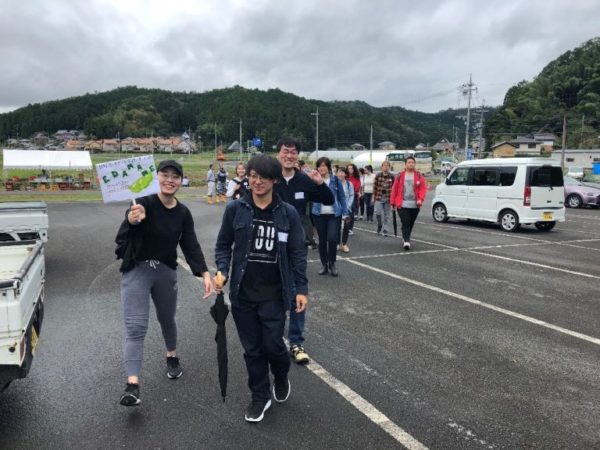 After we left Kyoto Station, we spent an hour rolling along in a bus before arriving in Takeno in Kyotamba. Green spread out around us in scenery that calls to mind the children's nursery rhyme, "Furusato (Hometown)."
When we arrive at the field, the farmers explain to us how to harvest the beans, and we get straight to work!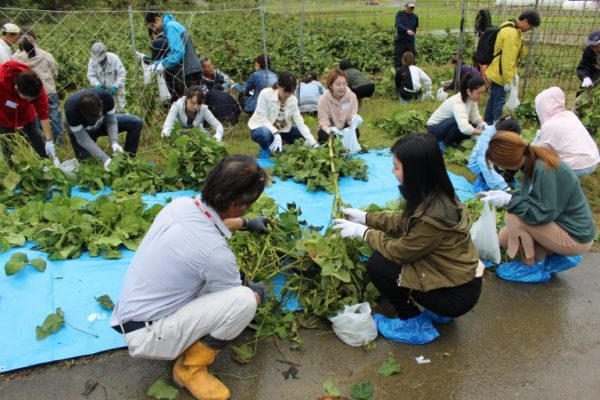 On asking the farmers, they told us that while the soybeans are green now, when the temperatures drop suddenly in winter, the beans will turn black, and they'll be good to use in traditional New Year's dinners, osechi.
These black beans are prized ingredients, and are often sold at high prices, too…
Just as we'd harvested a bunch of beans, it started to rain, so we sadly had to call it a day. But up next was an event we'd all been looking forward to: lunchtime!
Finally, lunchtime!
For lunch, we headed to Kyoto-Tamba Dining Workshop! Kyoto-Tamba Dining Workshop brings together many of the local farmers of Kyotamba to revitalize the town with its business.
The menu local farmers prepared included…
・Miso soup with pumpkin, sweet potato, onion, carrots, and plateau leeks grown in Takeno, Kyotamba
・Deep-fried chicken with sauce made from garlic from Takeno, Kyotamba
・Cooked black beans, soybeans boiled in salt
・Soybean rice full of soybeans harvested here
Everything was fresh, and our chopsticks didn't stop moving as we ate!
Our student participants, and the student organizers from BN2 all enjoyed chatting with the farmers as they ate.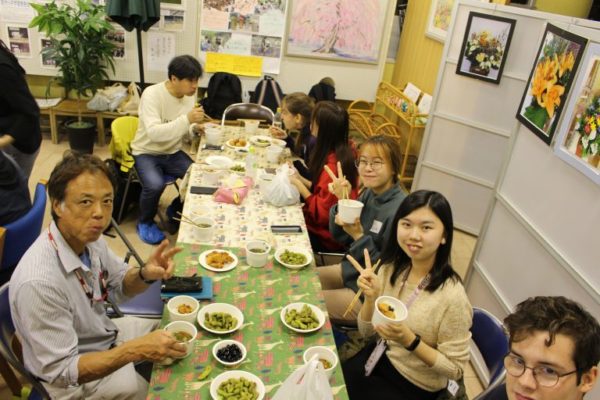 We also got to interview Mr. Susumu Yamada, representative of the Kyotamba-Takeno Famers.
Q: Please tell us about the Kyotamba-Takeno Farmers Market?
A: We're a group of farmers in the Takeno area in Kyotamba. We work to promote the brand of vegetables we grow here in the Takeno area.
Q: The Takeno area currently has an aging rate of 40 percent. Is anything being done to handle depopulation?
A: It's true that we're facing depopulation, but we're actually using a number of approaches to combat the issue.
For example, we're making great use of I-turners and U-turners, and a lot of people are using this system now. We're hoping to enliven Takeno even more in the future.
*I-turn: Moving away from urban areas to work in a rural location
*U-turn: Someone who has moved from the country to the city, but who is coming back to their hometown
The farmers explained that they were using a variety of methods to search for people to carry on their work. We also heard the exciting news that the lush nature and the warmth of the people in Takeno, Kyotamba has even brought in new residents from overseas.
Maybe some of the international students that participated in our event this time will come back to live and farm in Takeno!