Kyoto Companies & the International Student Job Search – from the 2018 Paid Internship Seminar –
Making a strategy for the company of your choice
Mr. Miyagawa: Before the screening process has even begun for large companies, it's key to get a smaller company to tell you, "If things don't work out with the big company, come and join us."
Also, once you've received a job offer from one company, you'll feel more confident in trying to apply to others.
I think it's good to speak frankly with the company you received an early offer from about your job hunt from there on, and to stay in contact. I highly recommend making such a point of contact early on.
Remember that international students require more time than Japanese students to prepare their applications, and that narrowing down the list of companies you'll apply to after already receiving an offer is an effective strategy.
Kyoto is of course home to a number of big corporations, but also has many attractive small- to –mid-sized companies. I highly encourage participants in this internship program to make a point of contact with such companies.
Job-Hunting Advice
Mr. Miyagawa: It can be really helpful to listen to advice from upperclassmen who've finished their job hunt, and by actively participating in problem-based learning (PBL) classes.
In Kyoto, there's a special student discount for business Japanese e-learning, so please consider that as well.
Going into your job search, instead of aiming to be "the same as a Japanese student," focus on your experience and strengths as an international student, and on what you want to do.
A good manager should be thinking of how best to use an international student's unique strengths. They'll also be hoping to hear new ideas and proposals that might not come from their Japanese employees, and that their company will grow through overseas contact. All of you have the incredibly valuable experience of having studied abroad in another country. Be proud of that status as you try to find work in Japan.
A Word from Participants in the 2017 Paid Internship Program
Next up: a word from three international student participants on their experience in the 2017 paid internship program.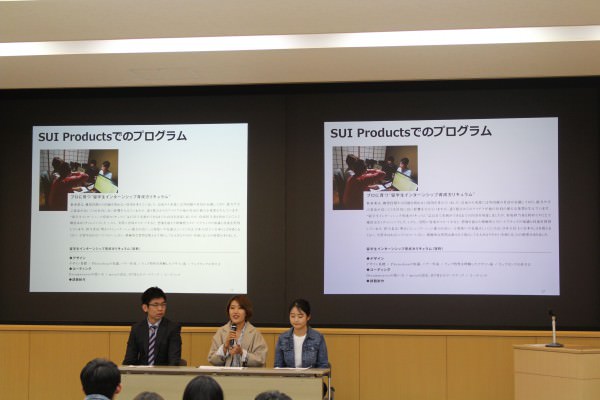 Xu Li Meng, Doshisha University (2017 intern at Kyoto Takara Co., Ltd.)
Xu: "I interned at Kyoto Takara Co., Ltd. for two weeks.
There were things that changed in my way of thinking before and after the internship. Before, I thought that manners were the most important thing in Japanese companies. Good manners are important, of course, but I came to realize a sense of responsibility for the company's profits was the most important thing. I was pleasantly surprised to find that once you get close to people, it's ok to show them a less formal side of yourself. I felt like the company environment was one where we could understand each other.
I also learned how different an internship is from a part-time job. An internship is completely different from doing simple, menial tasks.
You have to take a long view during your internship, and have more responsibility. You need to get certifications for your job, and network with people. Even if the internship doesn't land you a job in the end, the experience will undoubtedly be beneficial."
Bai Yu Hang, Kyoto University of Art and Design (2017 intern at SUI Products)
Bai: "I participated in this internship because I wanted to experience a job as close to design as possible.
After my internship at SUI Products, I did another internship in the game industry. Right now, I have an internship offer from a Chinese company, too.
I think this paid internship program for international students was the first step towards all of these opportunities.
At SUI Products, I was able to not only make web banners, but also learn html and css. The speed at which I improved can't be compared to learning in school. I made websites in Chinese, and conceived and presented strategies to attract more tourists from overseas.
Though I was interning at a real company, it wasn't a stiff and formal environment, and I was able to build good relationships with the employees there. I think one of the big merits of doing an internship, as opposed to a part-time job, is that you're able to build connections with the company.
I'm sure other students are worried about whether or not they can find a job that's a good fit for them, but I think the only way to find out is to actually enter the industry and see."
Yen Ding Juh, employee at Kyoto Takara Co., Ltd. (Following his internship, Yen entered the company in April, 2018)
Yen: "This paid internship was an extremely valuable experience for me. Paid, long-term internships are rare in Japan, so I really recommend taking advantage of this opportunity.
The length makes it possible to really see what it's like to work at a Japanese company, and you'll be prepared to get into the mindset of a working person in Japan.
Some students may be unsure about working at a smaller-sized company, but fewer people makes for a good working environment, and there's the reassurance of being able to consult with your boss right away.
Kyoto Takara is opening up sales routes overseas, and also offers chances for me to use my international perspective, so I'm really happy to be working here.
I recommend this paid internship for anyone who's hoping to find a job in Japan. This experience can do nothing but help you."
The students who spoke at this seminar seem to have not only gained working experience through their internships, but to have really learned about the positive qualities of Kyoto's smaller-sized companies.
Study Kyoto supports international students in their search for a job in Japan, beginning with this internship program, but also including information which we will continue to post on this site periodically, so please check back soon!
For more information on searching for jobs here in Kyoto, please check out Beyond Study Kyoto (Job-Hunting Events for International Students), Kyotomorrow Academy, and Hataraku, which are also updated frequently!
For more about internships, please see the following:
How to Get an Internship in Japan
Paid Internships for International Students
Students Talk: Doing a Paid Internship in Japan, 2017
Succeed in Your Japan Job Search with Support for International Students!