Must-See for Kyoto New-Comers! A Guide to the Areas of Kyoto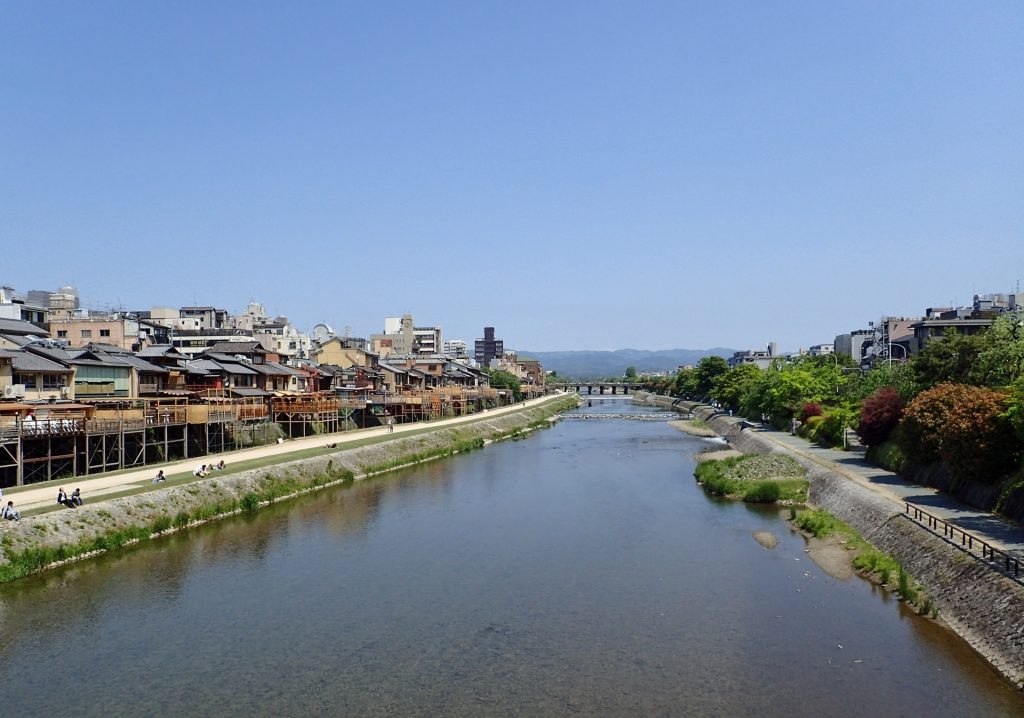 Before coming to study in Kyoto, you'll probably want to have some idea about the environment in which you'll be studying and living in for the next few years. In this article, we'll take a look at the various areas of Kyoto City, each home to many university campuses, and do an easy break-down of what it's like to live in each, their characteristics, and transportation.
Kyoto, the Ancient Capital of Japan
The capital of Japan was first moved to Kyoto in 784 A.D., when the capital was moved from Nara to Nagaoka-kyo (located just outside modern-day Kyoto City). Later, in 794, the capital was moved to Heian-kyo, located in what is now Kyoto City, and for more than 1,000 years, until 1869, Kyoto played a central role in politics and culture as Japan's capital city. Today, Kyoto is known as one of the best sightseeing destinations in Japan and abroad for its many well-preserved historical sites and traditional streets.
Now home to approximately 1.45 million people, Kyoto City's population has a much higher percentage of university students than other cities in Japan, and is in fact famous for being a "student city." According to statistics for the fiscal year 2021, there are 150,000 university students living in Kyoto, including international students, meaning that about one out of every 10 people living in Kyoto is a university student!
Let's take a look at the different areas of the city, which is divided into 11 different wards ("ku").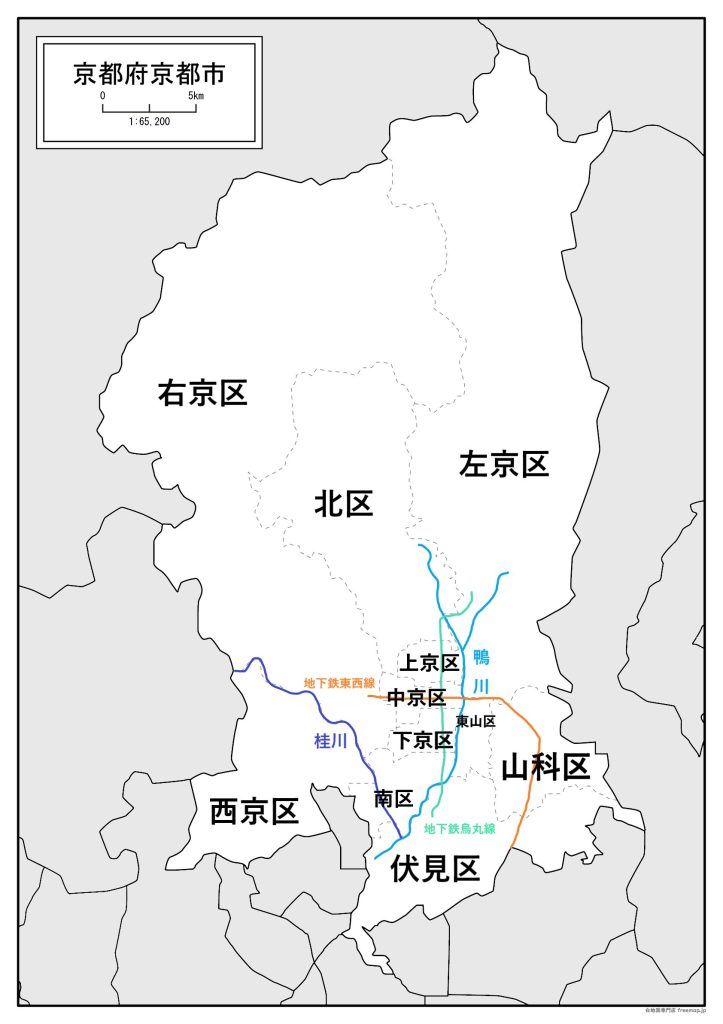 Central Kyoto
Shimogyo Ward (Shimogyo-ku)
This area is centered around JR Kyoto Station, the gateway to Kyoto,  and is very convenient, especially for long-distance travel, as many shinkansen trains, trains to other prefectures , and long-distance buses arrive and depart from the area. In addition toJR trains, you can also ride the Kyoto Municipal Subway and Kintetsu trains from Kyoto Station, making it a major transit center where many people commute to work, school, and head out for sightseeing in Kyoto. The area around Shijo-Kawaramachi, located in the northern part of Shimogyo-ku, is one of Kyoto's major downtown areas with many department stores and shops. Other Shimogyo-ku spots include Kyoto Tower, a local landmark; Umekoji Park, home to the aquarium and railroad museum; and the magnificent Higashi Hongan-ji and Nishi Hongan-ji Temples.
Universities in Shimogyo-ku:
Ikenobo Junior College, Ryukoku University (Omiya Campus), Kyoto City University of Arts (scheduled to relocate in 2023)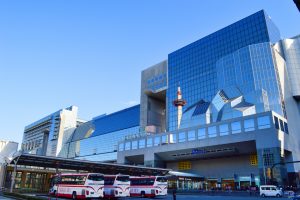 Kyoto Tower reflected on the JR Kyoto Station building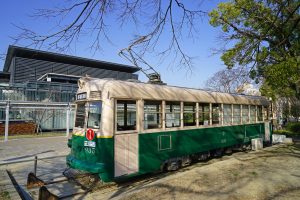 Tram Plaza in Umekoji Park
Nakagyo Ward (Nakagyo-ku)
Nakagyo-ku is the political and economic center of Kyoto City. Kyoto City Hall and the downtown Sanjo-Kawaramachi area are located in this ward. Office buildings are clustered around the Karasuma-Oike subway station, but there are also many restaurants and shops around the station, making it convenient for shopping, too. The area is also close to the Kyoto Imperial Palace, and there are many old machiya townhouses that have remained in the area since the olden days. Meanwhile, the area around Nijo Station, the center of the west side of the city, offers a good balance of daily living necessities and entertainment, with large supermarkets, movie theaters, and shopping streets – as well as Nijo Castle, a World Heritage site.
Universities in Nagakyo-ku:
Bukkyo University (Nijo Campus), Hanazono University, Kyoto College of Nursing, Ritsumeikan University (Suzaku Campus)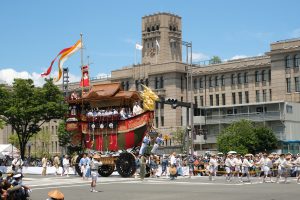 Ofunehoko floatspassing in front of Kyoto City Hall during the Yamaboko procession of the Gion Festival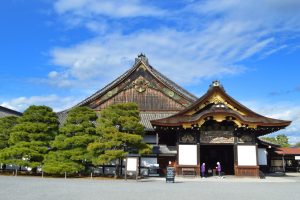 Ninomaru Palace, a national treasure at Nijo Castle
Kamigyo Ward (Kamigyo-ku) 
Kamigyo-ku is associated with traditional Kyoto culture like tea ceremony and Nishijin textiles. The area is dotted with numerous temples and shrines, which give it a cozy and peaceful atmosphere. It's popular for its easy access to the Sanjo and Shijo areas in Kyoto's downtown, just a short walk away. Kamigyo-ku is home to many famous tourist attractions, including the Kyoto Imperial Palace, the residence of the emperor when Kyoto was the capital of Japan, and Kitano Tenmangu Shrine, where the god of learning is famously enshrined.
Universities in Kamigyo-ku:
Doshisha University, Doshisha Women's University and Heian Jogakuin University (Kyoto Campus), Kyoto Prefectural University of Medicine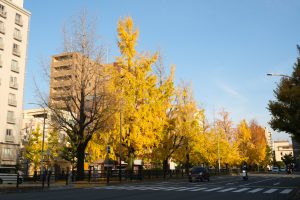 Ginkgo trees along Horikawa Street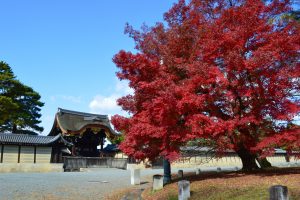 Kyoto Imperial Palace in autumn
Eastern Kyoto
Sakyo Ward (Sakyo-ku) 
Sakyo-ku is an area with a lot of greenery and a quiet, relaxed atmosphere, with nature in the north and many schools and residences in the south. It has the largest number of universities among the 11 wards, and many international students live here. The Kamo River, which runs along the west side of this ward, is fondly used as a park space by Kyoto residents looking for a relaxing place to spend some time. There are also many famous tourist attractions in this area, including the World Heritage Sites of Shimogamo Shrine and Ginkaku-ji Temple (also known as the Silver Pavilion). In terms of transportation, there are Keihan trains and a subway line to the center of the city , as well as Eizan trains to the areas of Kibune and Kurama.
Universities in Sakyo-ku:
The Kyoto College of Graduate Studies for Informatics, Kyoto Institute of Technology, Kyoto Notre Dame University, Kyoto Prefectural University, Kyoto Seika University, Kyoto University (Yoshida Campus), Kyoto University of the Arts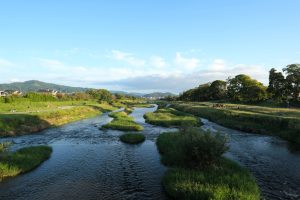 View of the Kamo River from Kitaoji Bridge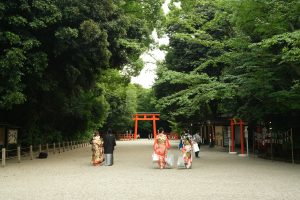 Shimogamo Shrine rich with greenery
Higashiyama Ward (Higashiyama-ku) 
This area is bustling with tourists every day, and is full oftemples and shrines popular for sightseeing in Kyoto, like Kiyomizu-dera Temple and Tofuku-ji Temple, as well as the Gion area, where you can rich cultural assets and a historic townscape. It may be the closest place to the scenery you imagine when you hear the word "Kyoto." Recently, more and more cafes and restaurants have started renovating traditional old machiya houses, showing just how Kyoto is incorporating the "new" into the "old."
Even as you enjoy the full sense of traditional Kyoto in Higashiyama-ku, you can also enjoy convenient access to central Kyoto and Osaka by Keihan trains.
Universities in Higashiyama-ku:
Kyoto Arts & Crafts University (Kyoto Higashiyama Campus), Kyoto Women's University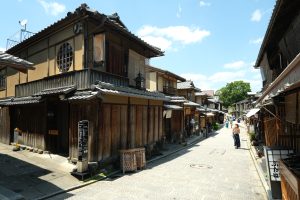 The old streets of Ninenzaka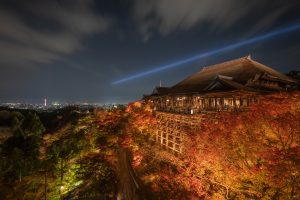 Kiyomizu-dera Temple and illuminated autumn leaves
Yamashina Ward (Yamashina-ku) 
With natural surroundings all around, Yamashina-ku has developed into a Kyoto City bedroom community. Located in a basin on the other side of a small mountain from downtown Kyoto City,Yamashina Station may seem far from the city center, but it is very convenient if you're trying to reach Kyoto Station from Yamashina Station, which is only about 6 minutes away by JR train. There are a lot of shops clustered around Yamashina Station, which also makes itavibrant andconvenient place tolive and shop. Three train lines (JR, Keihan, and the subway) also converge here for easy access to Kyoto Station, the Sanjo-Kawaramachi area, and other downtown areas of Kyoto City.
Universities in Yamashina-ku:
Kyoto Pharmaceutical University, Kyoto Tachibana University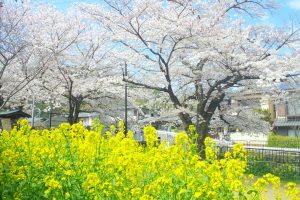 The Yamashina Canal in spring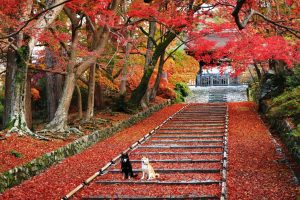 A carpet of autumn leaves at Bishamon-do Temple
Western Kyoto
Ukyo Ward (Ukyo-ku) 
Ukyo-ku the largest of the 11 districts. Just like Sakyo-ku, the northern part of this area is mountainous, and residential areas are concentrated in the south. To the west is Arashiyama, one of the most popular tourist destinations in Kyoto, which attracts large numbers of visitors throughout the year. The Randen, a train that runs between famous shrines and temples, the Toei Kyoto Studio Park, and Arashiyama, is one of the most convenient means of transportation for sightseeing in Ukyo-ku. Meanwhile, the Nishikyogoku and Saiin areas to the east are a mix of office and residential neighborhoods, and are home to many students due to the large number of schools there. Buses and Hankyu trains offer easy access to the center of Kyoto.
Universities in Ukyo-ku:
Kyoto University of Advanced Sciences (Kyoto Ohata Campus), Kyoto Koka Women's University, Saga University of Arts, Kyoto University of Foreign Studies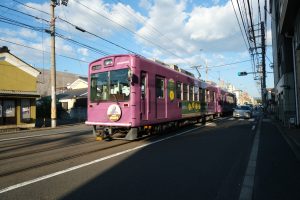 The Randen line connects Arashiyama and central Kyoto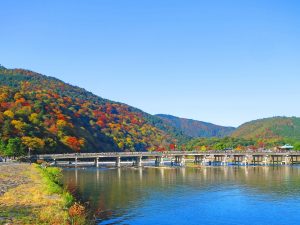 A colorful autumn in Arashiyama
Nishikyo Ward (Nishikyo-ku) 
Nishikyo-ku is the area that's developed around Katsura Station on the Hankyu Railway. Katsura Station offers easy access to central Kyoto and Osaka, as it's also a stop for limited express trains on the Hankyu Line between Osaka and Kyoto. This area includes many historic temples and shrines, including the World Heritage site Saiho-ji Temple and Matsuo Taisha Shrine. With the Katsura River and the Nishiyama mountain range wrapping around it, Ukyo-ku is rich in nature.
Universities in Ukyo-ku:
Kyoto College of Economics, Kyoto University (Katsura Campus), Kyoto City University of Arts (to be relocated to Shimogyo-ku in 2023)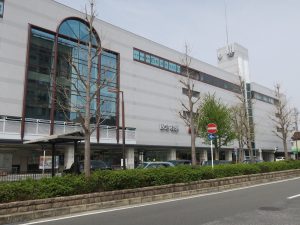 Mew Hankyu Katsura, a shopping mall connected to Katsura Station on the Hankyu Railway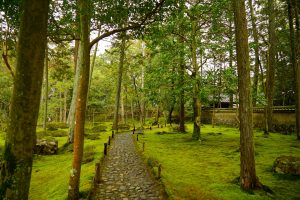 Saiho-ji Temple, known as the "moss temple"
Southern Kyoto
Minami Ward (Minami-ku) 
Minami-ku encompasses the largest number of leading Kyoto company headquarters, including those of Nintendo and Nidec Corporation. In terms of transportation, the JR, Kintetsu, and Karasuma subway lines offer outstanding convenience here. This area is also home to To-ji Temple, which is registered as a World Heritage site. Located within walking distance of Kyoto Station, To-ji Temple is popular amongst locals and foreign visitors for its special openings of national treasures, such as Buddhist statues, and the illumination of the temple grounds during the cherry blossom and fall foliage seasons in spring and fall, respectively.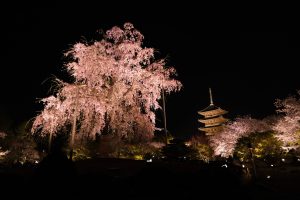 Fuji cherry blossoms and the five-story pagoda of To-ji Temple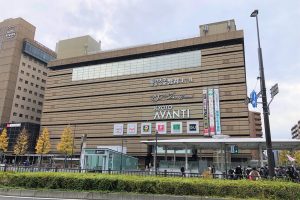 Kyoto Avanti shopping mall, located south of JR Kyoto Station
Fushimi Ward (Fushimi-ku)  
Fushimi-ku has the largest population of the 11 wards. Blessed with high-quality groundwater, the area is home to a number of traditional sake breweries. You'll find many old buildings still standing here, and the streets are filled with a sense of history. The area is also dotted with popular tourist attractions like Daigo-ji Temple, a World Heritage Site; and Fushimi Inari Taisha Shrine, famous for its Senbon-torii, or tunnel of a thousand torii gates. The Keihan, Kintetsu, and JR lines provide easy access to Osaka and Nara from Fushimi-ku.
Universities in Fushimi-ku:
Kyoto University of Education, Ryukoku University (Fukakusa Campus)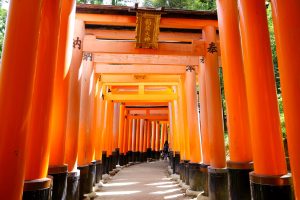 Senbon-torii (Thousand torii gates) Tunnel at Fushimi Inari-taisha Shrine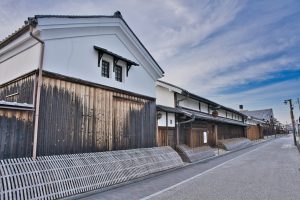 Old streets and sake breweries