From Anime to Zen: Short-term Study Abroad in Kyoto, Winter 2019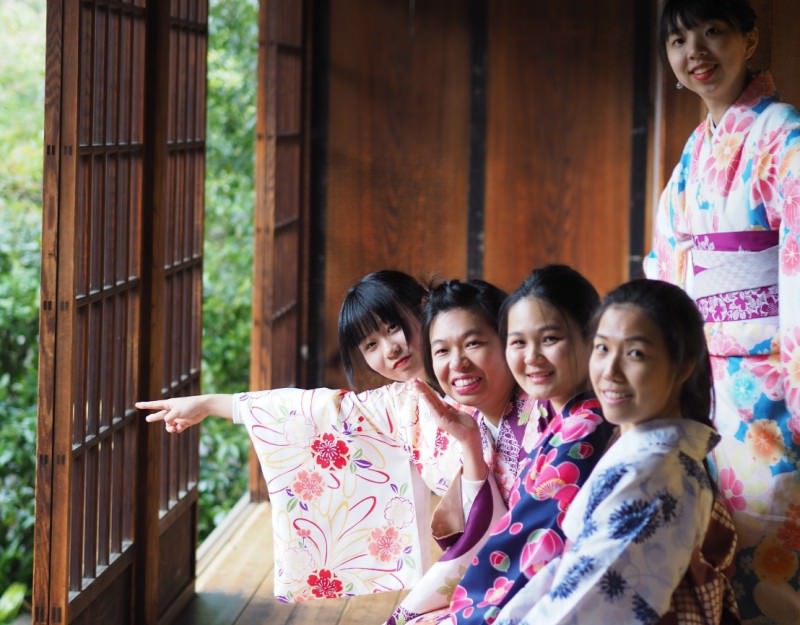 The Consortium of Universities in Kyoto held this year's short-term Kyoto Study Program -from Anime to Zen - from January 20th (Sun) – February 2nd (Sat), 2019.
This year's program schedule
This time, 23 international students participated! They hailed from China, Hong Kong, Taiwan, Malaysia, Australia, New Zealand, Singapore, Korea, Turkey, and the Czech Republic—a power blogger from Hong Kong even came along to check out the program! (See the posts here on Facebook, from January 28th to 31st, 2019: https://www.facebook.com/plovejapan) I hope you'll get some idea of the kinds of things you can do on the Kyoto Study Program, and the kinds of things you can learn and experience here in Kyoto, Japan!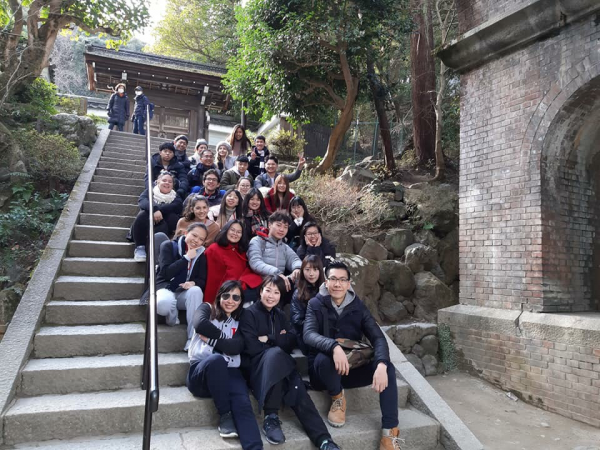 (At Nanzen-ji Temple)
Day 1 Orientation, Welcome Party, Hotel Check-in
Day 2 Meet support students and stroll around Shijo-Karasuma Area, Lecture: Introduction to Japan/Kyoto
Day 3 Kyo-Yuzen (Koto Dyeing) Workshop, Lecture: Japanese Language Lesson at ISI Language Academy
Day 4 Kyoto University Visit, Lecture: Culture of Japan and Kyoto, Kyoto University Campus Tour with local student guides
Day 5  Stroll around Higashiyama area (Nanzen-ji Temple, Murin-an Garden, etc.), zen meditation at Hanazono University
Day 6 Lecture: Japanese Food Culture and Food Education, visit Kyoto Koka Women's University and meet local students
Day 7 Meet Kyoto Tachibana University students, one day Kyoto group tour to different destination
Day 8 Free day
Day 9 Noh theatre experience at Kongo Noh Gakudo, Doshisha University Campus Tour, company visit at Shoseido Incense Co., Kyoto International Manga Museum visit, where students' portraits will be drawn by professional artists
Day 10 Lecture: Japanese Pop Culture Business, ikebana flower arrangement experience at Rokkaku-do Temple (where ikebana originates from)
Day 11 Lecture: A History of Shojo Manga, Japanese cooking experience at Kyoto Culinary Art College
Day 12 Lectures on Haruki Murakami and Spirited Away, kimono experience with Japanese students and stroll around Gion and Kennin-ji Temple
Day 13 Presentations, Closing Ceremony, Farewell Party
Day 14 Hotel check-out
As you can see, the program is chock-full of activities each day to help you learn about Kyoto and Japan from a variety of angles, including its culture, sightseeing, and universities. Read on to see more about a few of these activities in detail!
Experiencing Noh Theatre
To enter the world of Noh, we took a trip to Kongo Noh Rakudo. After learning about the history of Noh, its masks, and the construction of the stages, our whole group actually got up on the stage and tried singing and dancing.
It was an amazing opportunity to get close to this traditional Japanese art.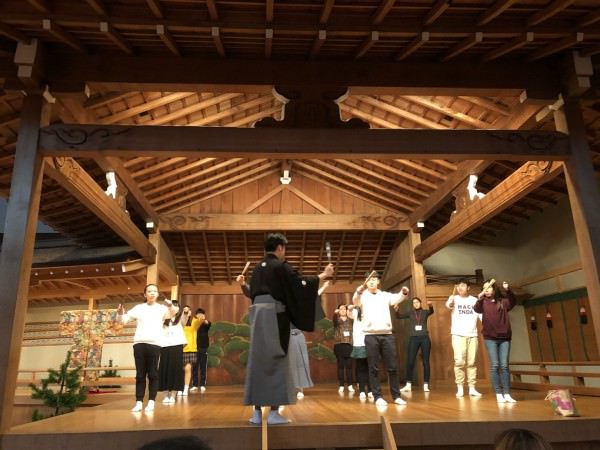 Becca from China said, "I may not have had a chance to experience the Noh play myself without this great program."
Hapi from Malaysia commented, "It was a precious moment when we got up on the stage and experienced it."