What careers do international students in Japan aim for?
On studying for a career in Kyoto
Q: When you chose Kyoto/Japan as your study abroad destination, did you feel that you'd be able to use what you learned here in your future career?
All: "Yes, of course."
Pam: "I especially feel strongly that I want to use my Japanese, and the knowledge I've gained in Kyoto to level up my career."
Katrina: "I knew that I wanted to act as a bridge between Japan and the US in some capacity, so I did my best to learn about Japan [during my studies here]."
Everyone is trying to apply what they learned towards their future. In Japan, it's common for your university specialization and your specialization at work to be different, but when considering returning to your home country, or the future generally, choosing a major carefully is important. It's an important thing for those considering study abroad in Japan to consider, too!
Q: Did any of your experiences outside of your studies or research—in school clubs, part-time jobs, volunteer work, etc.—introduce you to new fields of interest you think you could put towards a future career?
Cahaya: "I've had a number of part-time jobs. Because of that, I've been able to get to know a lot about tourism. I volunteer as an interpreter as a personal activity. There, I was able to think about many different types of volunteer work. (There are other things I need to accomplish, so I don't think volunteering will be my primarily job in the future) Sometimes I volunteer or work part-time in cultural exchange or English conversation, and through that experience, though my main goal is still to work in the tourism industry, I've also begun to think about the education industry."
Pam: "Through my part-time work on the Study Kyoto International Student PR Team, and as staff for cultural exchange, I've learned a lot about Japanese culture. More than anything, I've gained a lot of strength through these experiences, and they've made me very happy. That's the biggest reason I decided to continue my research in Kyoto."
Ain: "I think knowledge about the media, how to effectively run social media, and my interactions with my sempai and kohai (senior and junior colleagues) in Japanese companies will all help me in the future. I want to use these skills in HR or PR."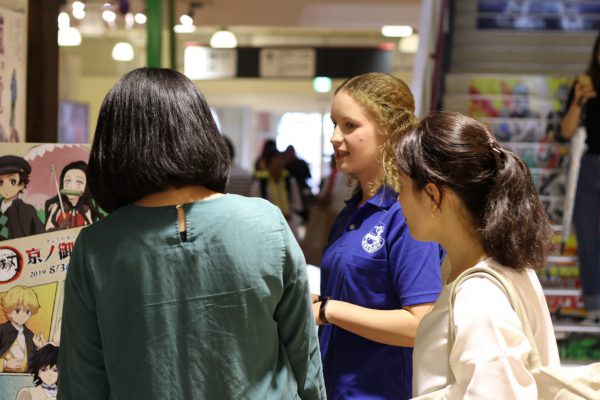 Katrina: "For me, it's human relations [that have given me new interests]. In the US, we don't have the concept of "sempai" or "kohai," so I learned how to interact with my sempai and kohai in Japan. The way I interact with my same-grade classmates is different, too: where everyone is close to one another in the US, in Japan, students tend to get close to one another in small groups, and made deeper friendships within those groups. I'm now able to observe how other people behave, ask questions and consult with the people around me, and react appropriately."
Soomin: "In my club activities, we made an "international student report meeting," where twice a year I write articles in Japanese and my native language about my life as an international student in Japan, and post them to the department's website.
In my part-time work, I translate flyers and web pages, and post them to Facebook to promote study abroad to Kyoto as part of the Study Kyoto International Student PR Team. I think I can use that experience in my future career."
Wang: "I'm a member of the Study Kyoto International Student PR Team, too, where we work to spread the word about Kyoto as a university city/city of students. Together with other international students in Kyoto, I help share information to promote Kyoto study abroad on social media. At university, I've learned a lot about Japan, and I write articles for an online magazine for international students, and report on my own experiences and go out and do interviews to put on the site."
Everyone who participated here is also actively involved in extracurricular activities, it seems. Experiencing something a little different from your field of study is sure to expand your outlook as you look for your first job. I also think learning about sempai/kohai relationships is something that's very helpful when working at a Japanese company. A variety of different experiences also looks very good on your job-hunting resume, documents, and in your interviews. Let's ask the students if they're preparing in any other ways.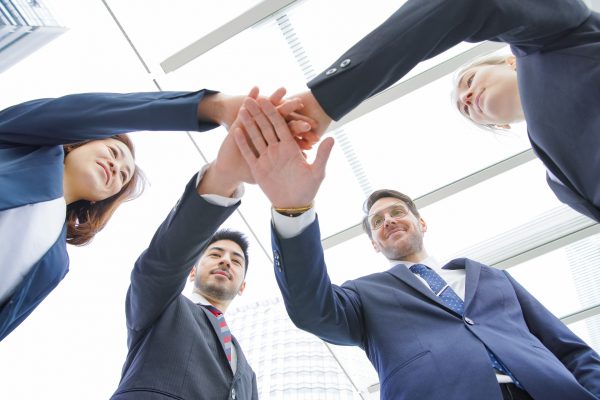 Job hunting preparation
Q.Are you preparing for job hunting or for the future in some way?
Cahaya: "I'm attempting to try to create a network of people in the tourism industry through my research. I'm also working on my English and Japanese skills."
Pam: "Recently, I've been learning how to teach, and to do that, I've been trying to meet as many people as possible. I'm trying to do as many teaching jobs and guest speaking jobs as I can. Because of COVID, everything's online now, so it's turned into an opportunity to learn how to teach lessons online."
Ain: "I'm researching how to write my entry sheet [for job applications], resume, and cover letter. I also participated in an internship over the summer, and I'm gathering information about different companies."
Katrina: "Since I have a job lined up, I'm studying about the industry and the company I'm going to join. I'm also reading some books I think might help me after I join."
Soomin: "I'm going to information sessions about internships and companies, and I go to my school's career center to ask for advice for my job search."
Wang: "I'm studying everything from the visual elements of a creation—design/layouts, model expressions, poses, backgrounds—to coordinator-related things like makeup, clothing, styling, art, etc."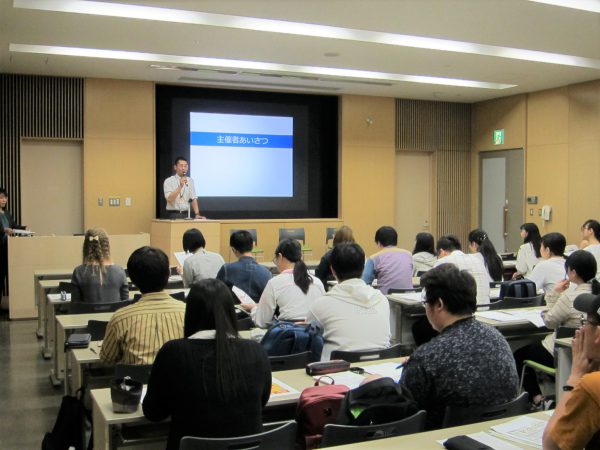 Each of the students is working hard to improve themselves inside and out, by working on their personal skills, networking, and internships.
They're also taking advantage of their school's career centers.
Study Kyoto has also published a lot of articles about job hunting in Japan, so be sure to take a look!
The Four Great Mistakes Made During Job Hunting
https://www.studykyoto.jp/en/magazine/2020/10/29/job-hunting-mistakes/
Kyoto Companies & the International Student Job Search – from the 2018 Paid Internship Seminar –
https://www.studykyoto.jp/en/magazine/2018/06/13/2018internship-guidance/
My Japanese Job Hunting Experience
https://www.studykyoto.jp/en/magazine/2017/02/22/japan-job-hunting-experience/
How to Get an Internship in Japan
https://www.studykyoto.jp/en/magazine/2016/09/21/internship-in-japan/
Alumni Interviews
https://www.studykyoto.jp/en/work/oboginterview/
Q: What support did you most appreciate, whether from your school, the Consortium of Universities in Kyoto, a private company, etc? Do you have any recommendations for job-hunting apps or websites?
Cahaya: "To be honest, the only website I've used so far is LinkedIn. My friend recommended me YOLO Japan. I haven't used websites much so far, but I'm planning on trying some in the future.
Pam: "A service called Pasona was very helpful for me. There was a Thai person working there who worked very hard to help me, and listened carefully to what I had to say. I'm really grateful to them."
Katrina: "I used my school's job-hunting support center, Study Kyoto's Paid Internship, and attended lectures on how to write your cover letter and entry sheet. For internships, I mostly used Rikunabi, for my main job choices I used MyNavi, and I also looked at company websites directly."
Soomin: "The consultations I had at my school's career center were what helped me the most. It's easy to get to because it's at my school, and I think they offer individualized job hunting advice."
All these students know quite a number of different online services! As they mentioned, you can also take advantage of school career centers, job-hunting seminars, one-on-one consultations, so take a look and try to find the method that serves you the most.
The students that participated in our interview all gave us some wonderful information. We hope their knowledge will help other international students, too, including you, in your future job search in Japan!