Will international students seize the key to "change"? A report on a visit to Nissha
A Workshop: Searching for answers with diverse perspectives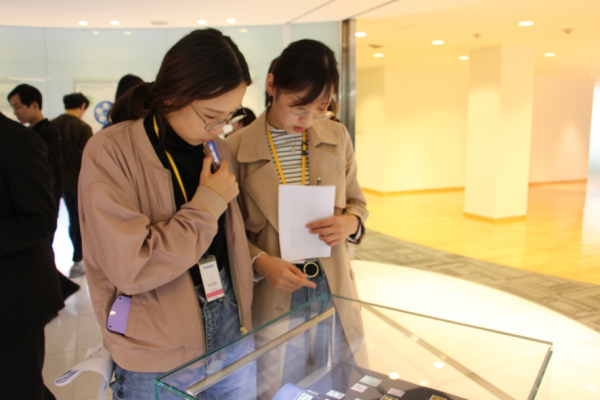 After our tour of the show room, we divided into groups to consider themes Mr. Saito assigned us for a workshop.
Touch sensors, Nissha's flagship product, continue to be used in cutting-edge technology, even as market trends shift from traditional cell phones to smartphones. For our workshop, we were asked to think about where the next market would be, and how we could continue to be dominant players in those markets.
The theme might seem to be very technical, but the international students all listened carefully to Mr. Saito's explanation, and showed how well they'd understood it. Looking back over past products, the students immediately started their discussions.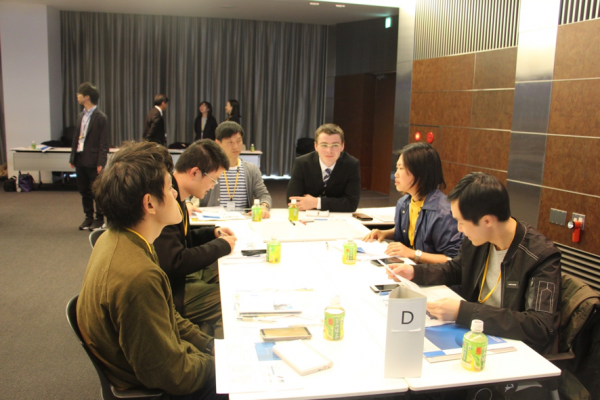 Participating in these talks as a member of the Kyoto Student PR Department, the thing that surprised me the most was the variety of opinions.
International students with all different backgrounds shared opinions, examples of products from their countries with the same features, and what might be done differently in their countries.
I also noticed a difference in what students from different countries focused on, whether it was user-friendliness or environmental friendliness.
I really felt this was the meaning of Mr. Saito's words back in the showroom: "In order to keep evolving, we need to bring together people from diverse backgrounds."
In order to evolve, increase perspectives on the inside
What does "globalization" really mean for us? How should we adapt to a society that's changing at a dizzying pace?
After the event was over, I was able to interview our company tour host, Mr. Saito.
What are your thoughts on globalization in your work?
Mr Saito: At Nissha, where 80% of our sales are overseas, I really feel that most Japanese manufacturers are only creating products with Japanese people. Overseas manufacturers often have people of various nationalities. That means they have that much more variety in worker values and ways of thinking.
On the other hand, in places with only Japanese workers, you'll only be able to think with Japanese values, and it's extremely difficult to bring out new perspectives.
Just chasing after changes in your customers or in society will make you late to the game.
We don't start moving because someone on the outside told us to. We bring together a diversity of perspectives on the inside, and adapt to the changes.
"Change for Growth"
We at Nissha will continue to change.
In order to keep doing so, we want to work with people from a variety of backgrounds and with a variety of perspectives, and to grow together.
In conclusion
Seeing the international students examine the products and hearing their fresh, different opinions at today's event was a new experience even for me, as a member of the Kyoto Student PR Division.
Whether it's when you're thinking about your future or career, or when you're trying something new, "change" is always required in our everyday lives, and there are lots of things you just can't make progress on in your own head, or with your own knowledge alone.
Even if you think you're making progress, aren't there times when you lose your way somewhere in the middle?
When that happens, why not create a change in yourself by experiencing a different point of view from a faraway country?
Coming into contact with a point of view you'd never considered is sure to give you an idea of the next change you'll make!
(Text: Moeka Nishiyama, Doshisha Women's College of Liberal Arts, Representational Culture Department)
(Photos: Amane Kimura, Ritsumeikan University, Industrial Society Department)
Original text: Koto College
https://kotocollege.jp/archives/17774
See here for details about KyoTomorrow Academy, a community that supports international students in their job search and promotes student exchange:
https://www.studykyoto.jp/wp/kyotomorrowacademy/
For our article about KyoTomorrow Academy's tour of Touan Kiln see here:
https://www.studykyoto.jp/wp/en/magazine/2020/02/03/kiyomizu-pottery/