KyoTomorrow Academy, Kyoto's International Student Community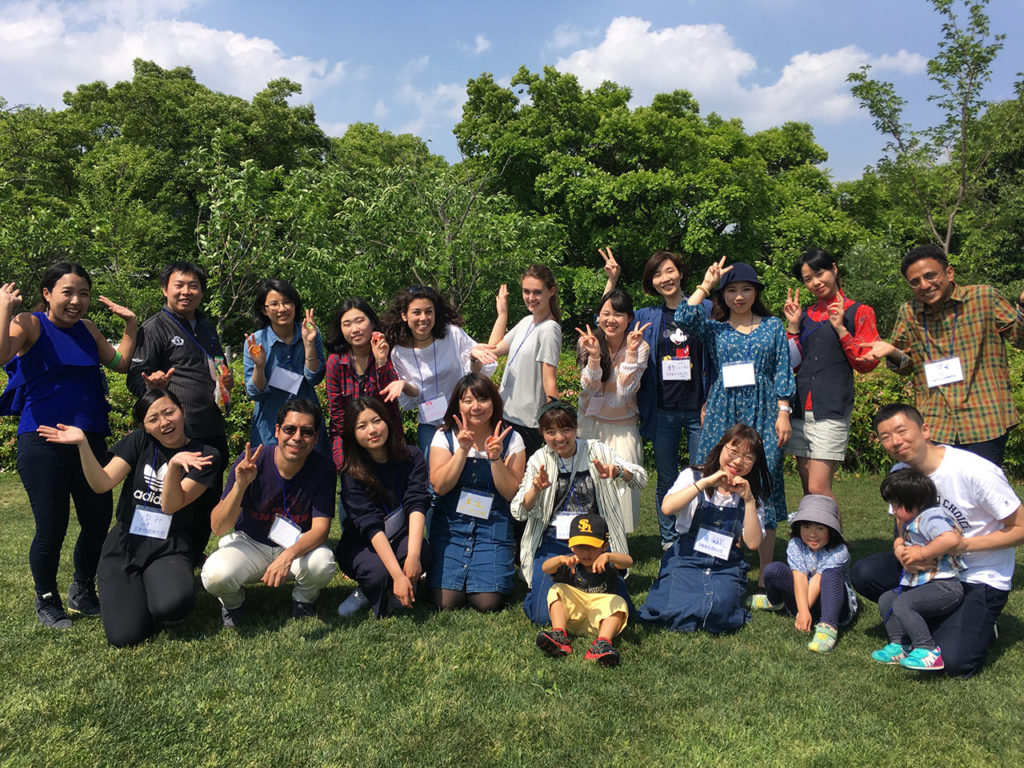 Students who come to live and study in Kyoto from all over the world come with big dreams and goals for the future.

"I want to speak better Japanese!"
"I want to make friends with Japanese students, and other students from all over the world!"
"I want to know more about Japanese culture!"
"I want to work in Japan after I graduate!"
And on the list goes!
KyoTomorrow Academy is a large community of 150 people, formed to support just these types of dreams.

The following three are KyoTomorrow Academy's main activites:

・ Beyond N2 (Japanese Study Support): This Japanese language study group originally began meeting with the goal of conquering the JLPT (Japanese Language Proficiency Test), often known as the first barrier for foreigners seeking work in Japan. Japanese students studying to become teachers of Japanese themselves are the backbone of this program, helping international students to improve their Japanese. The teaching style of this course has shifted focus to conversation-based learning, and is an excellent opportunity for international students and Japanese students to interact.

・ Job Search Support: Learn all about how to write a Japanese "entry sheet" and résumé, practice interviewing, take lessons in business Japanese, and even attend special setsumeikai (job fair-like informational sessions to learn more about companies) and other events with opportunities for students to interact with company representatives. Students will be carefully coached in how to construct their own "self PR statements" and other items necessary for and specific to job-hunting in Japan. This course will be taught by teachers from Japanese language schools and experts in each respective industry.

・ Cultural Experiences: Really get to know Kyoto's rich traditional culture with this course. Have fun while learning about the business of Kyoto's old shops and artisan industries.

So what's it really like to participate in some of these classes? There's no one better to ask than the students themselves!
Study Kyoto Magazine asked a few members of KyoTomorrow Academy's Support Team about their experiences with the community. The Support Team consists of the students who do the majority of planning and administrative work for KyoTomorrow Academy's activities.
Beyond N2 (Japanese Study Support): Michael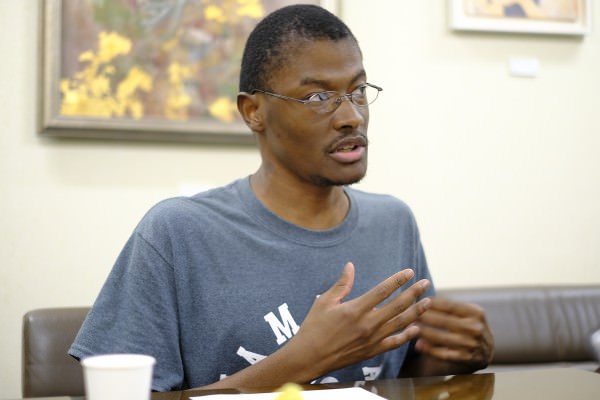 Profile
Michael is from Florida, USA, and currently studies at the Kyoto Center for Japanese Linguistic Studies.
Q: What first made you interested in studying Japanese?
A: It was pretty random, actually. In order to graduate from my university in America, I had to take two languages, so I took a course in Japanese. But when I started studying, I found that I really liked it.
At my school, there was only one class offered in Japanese, so it was a pretty unusual course there. My teacher told me all sorts of things about Japan, and that just made me even more interested. I started watching Japanese TV dramas, and I liked them much more than American dramas. My favorite was "The Perfect Couple" (Risou no fuufuu)—it's a comedy. I also really liked "Densha Otoko," and mysteries like "Galileo."
Q: How did you find out about KyoTomorrow Academy?
A: I found a flyer posted up on a notice board at my school. That was totally by chance, too.
Q: Why did you decide to participate?
A: Mostly, I wanted to improve my Japanese, and try using it outside of school, too. I come to classes twice a month, so I'm doing my best to participate every time.
Q: What do you do in your classes?
A: Classes last from 7 to 8:30 p.m, on the 5th floor of Campus Plaza Kyoto. We practice conversation one-on-one with Japanese students, and play games. The Japanese students will come up with the games. Last time we played a game where we had to think of something Doraemon would carry and explain it to everyone. There's no homework, so you do everything right there within the class, and can just enjoy practicing speaking with everyone and playing games.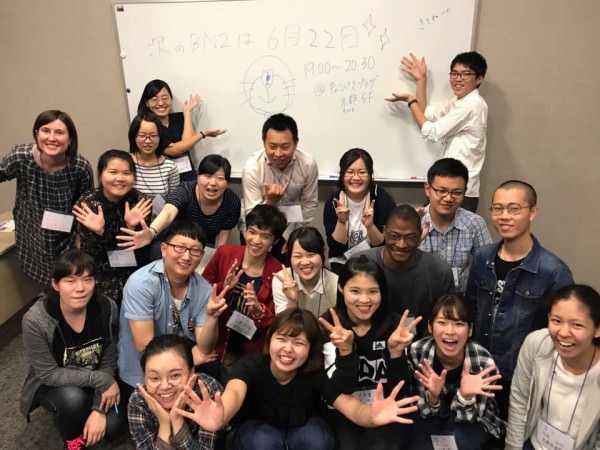 Q: What do you think is the best thing about the course?
A: Improving your Japanese is definitely a big point, but I think it's also a great opportunity to make and chat with Japanese friends, and other international students. It's really easy to make friends here. You have something different in common that with your friends from school, and it's fun for Japanese and international students to interact with each other here, I think.
I speak Japanese with my foreign friends here, too, so it's great practice. I speak Japanese even with my American friends—we both speak Japanese, so why not?
Q: Any interesting happenings you can share?
A: Well, in July, we have plans to have a dinner with the Japanese and international students. The students are making the plans to get together on their own. It's fun to plan stuff by ourselves, too.
Q: Is there anything difficult about participating?
A: Definitely! (laughs) Sometimes I'll want to say something in Japanese, but I can't quite express it.
I try to find the best words to fit what I'm trying to say, but it takes me a while, and it's kind of frustrating… like right now. (laughs)
Q: Do you think you've changed at all since you joined?
A: The biggest change would be the friends I've made. Also, my Japanese has improved a lot.
Q: Can you share a message for students thinking of joining KyoTomorrow Academy?
A: I joined KyoTomorrow because I wanted to make friends and improve my Japanese. So if you don't feel like your Japanese is very good, don't worry about it. The Japanese students here are all really nice, and they'll speak slowly for you, so people at any level can participate and get something out of it.
I'd love for more people to participate.
Job Search Support: Hsien and Zhi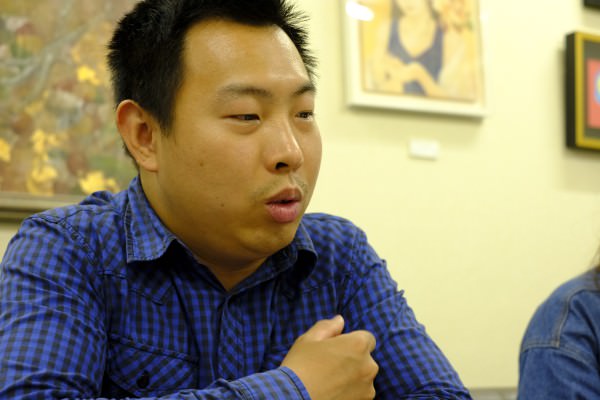 Luo Zhi is from Dalian, China, and studies at the Kyoto College of Graduate Studies for Infomatics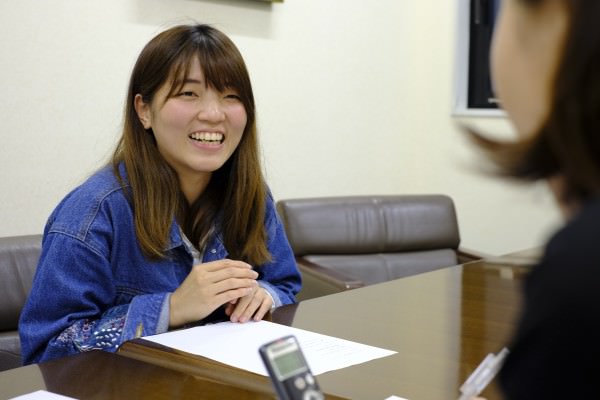 Huang Chin Hsien is from Taiwan, and studies at the Kyoto Institute of Culture and Language
Q: Why did you two first start studying Japanese?
Zhi: I started studying Japanese with anime—I would watch it without subtitles to practice. The translations in the subtitles would vary from translator to translator, so I wanted to find out the original meaning of the words.
Hsien: I started studying Japanese because I used to love pop idol groups. Like Arashi. (laughs)
Q: How did you find out about KyoTomorrow?
Zhi: I first heard about it through a pamphlet I was given at a setsumeikai (multi-company information session). I was interested when I heard that KyoTomorrow Academy has guidance sources for job-hunting students. I thought I might be able to get some different information that what's available to me at school.
Hsien: Coming to Japan made me feel like I want to work here even more, and I actually first heard of KyoTomorrow through a pamphlet I got at a school about a company info session. When I came to Campus Plaza for the info session, I found out that KyoTomorrow Academy also offers courses in business Japanese, and I decided I would join them, too.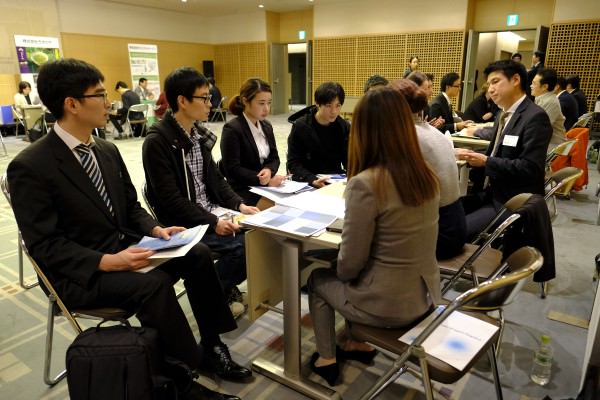 Q: Why did you decide to participate?
Zhi: KyoTomorrow Academy holds a lot of interesting events, so that's what interested me at first: cultural activities and things, too. I figured that I could have fun and get some Hsien: The most important things for me were the company information sessions and the classes in business Japanese. The teachers help you fix up your résumé, practice for interviews, and give the students a lot of advice.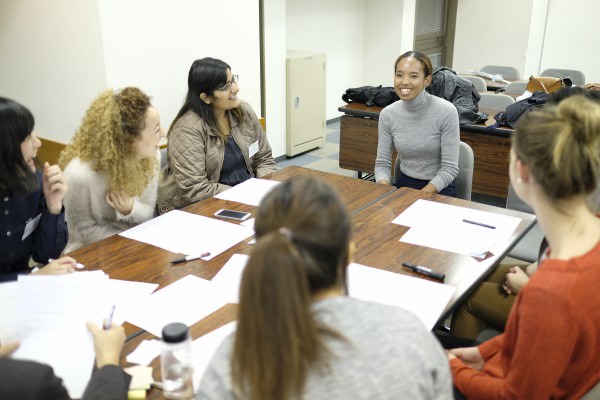 Zhi: There are visits to companies once or twice a year, too. I'm planning to participate in the next one.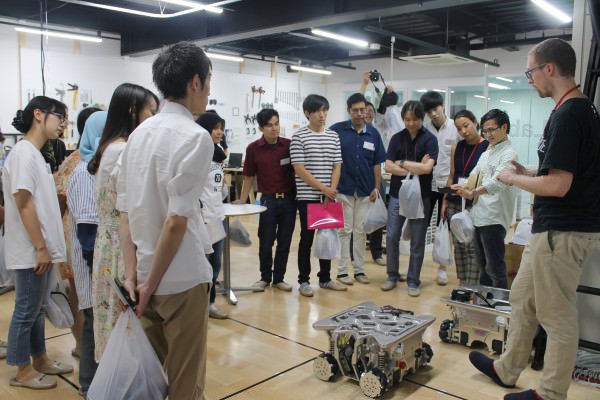 Q: What's been difficult for you in your job search in Japan?
Zhi: There are a lot more things to write on a Japanese résumé than on résumés in China, and that, I felt, was hard. In China, you only have to write a short career history, but in Japan, it's really important to sell yourself with a "self PR statement." The teachers explain all of those little differences.
Q: What industry are you hoping to work in?
Zhi: I'd like to use what I've studied and get a job in IT.
Hsien: I've actually already gotten a job offer. I'm going to be working for a staffing agency in Tokyo.
Q: Since joining KyoTomorrow Academy, what have you found difficult? Where do you think you've grown?
Hsien: I had to manage the welcoming party for the Support Team at Umekoji Park a little while ago. It was hard to organize it, but I think it was a really good experience. Everyone had a good time, and I think it turned out to be a great event.
Q: What do you think is the best thing for you about joining KyoTomorrow?
Zhi: By joining, I've been able to participate in all kinds of activities, and I've really learned a lot. I have a lot more going on now. I actually participate in not only the job search support sessions, but the Japanese language sessions and the cultural experience programs, too. The monthly meetings the Support Team holds to decide on our next activities are also great communication practice. I've made a lot of friends, too.
Q: Please share a message for students thinking of joining KyoTomorrow Academy.
Zhi: I want more people to know about all the activities we do, and to join. We're working on an event to collaborate with another organization to hold an information session together in one place. I think it'll be an event that'll help make everyone's job search a little easier.
Hsien: I think KyoTomorrow Academy holds really high quality events, so if people are able to, I'd love for them to participate. The business Japanese course is high level, so please come out and try it!
(Shortly after this interview, Zhi received a job offer from an IT company in Tokyo, where he will begin work in April of 2018.)