I feel really satisfied when I imagine my family or friends buying a Gekkeikan product in China
Gekkeikan Sake Company, Ltd.
Jin Yiwei (From China)
School:The Kyoto College of Graduate Studies for Informatics (Participant in the 2019 Study Kyoto Internship Program)
※Interview in 2022
Why did you decide to study in Japan? Why Kyoto in particular?
When I was in high school, I visited Japan, went to Tokyo and Kyoto, and became fascinated with Japanese culture. While I was in university in China, I studied abroad in Tokyo for half a year at a Japanese language school, and that's when I learned Japanese. I felt that Japan offered a great environment for studying, so I decided that I wanted to come back and study here after graduation. I chose to continue my studies at a graduate school in Kyoto that my university in Shanghai has a relationship with. Shanghai, where I'm from, is very much like Tokyo: they're both big cities. So I wanted to experience something that was quite different.
What memories stand out to you from your experience studying in Kyoto, Japan?
The thing that I remember surprising me the most was the number of foreign tourists in Kyoto! (laughs) It was hard to get on the bus sometimes. Recently [due to  the pandemic] the city has become much more quiet. The experience of living in Kyoto before the pandemic and afterwards feels very different.
In fact, compared to Tokyo, I had expected a much quieter place than the lively city I found.
The graduate school where I studied has mostly Chinese students, so there were actually fewer Japanese students around. Since I'd come all the way to Kyoto to study abroad, I felt like I wanted to experience more of life in Japan, so I participated in different volunteer activities: for example, at Kyoto Marathon, or volunteer activities from "Gakusei Place+" ("Student Place+") in Campus Plaza Kyoto. The volunteer events were for students, and there were many Japanese students that joined, too. I made friends there, and through hobbies like table tennis and badminton.
I'm actually still volunteering when I'm able to—I took time off to volunteer at the MPC (main play center) of the Tokyo Olympics this year!
How did you find your current job?
To be honest, even after graduating from grad school I was planning to continue my studies in Japan. More than 90% of the students around me were planning to return to their countries after graduation, but I wanted to continue my life in Japan.
Around that time, during the first year of my masters, I went to Campus Plaza Kyoto, and I saw a pamphlet there advertising a paid internship program. It was at just the same time as another event I was interested in—this one for homestay for international students—but in the end I decided to sign up for the internship. It wasn't until I participated in this paid internship at Gekkeikan that I decided I wanted to work not only in Japan, but at this company. During the internship, there were programs on store surveys, logistics and warehousing, and visits to the tax-free shops at Kansai International Airport.
This was my first encounter with the sake industry. I didn't have much of an image of what it would be like before the internship.
Please tell us about your internship experience.
I was placed in the trade department, where I was asked to apply my foreign perspective to make a proposal. At the end, I was asked to give a presentation on the Chinese market to the general manager of the sales division and the manager of the trade department. I was giving the presentation on my own, as a student, which makes me nervous when I think back on it (laughs). Now I feel like I interact with others in the company like family.
Gekkeikan is focusing on the Chinese market, and this internship is held every year, to gain the perspectives of international students. Many internships at other companies tend to be based around work experience with administrative tasks, but Gekkeikan's offers real work experience in marketing, teaching you to come up with a practical marketing strategy. The first week is spent learning about the sake industry and the company, and the second week is spent creating a report based on what you learned in the first week.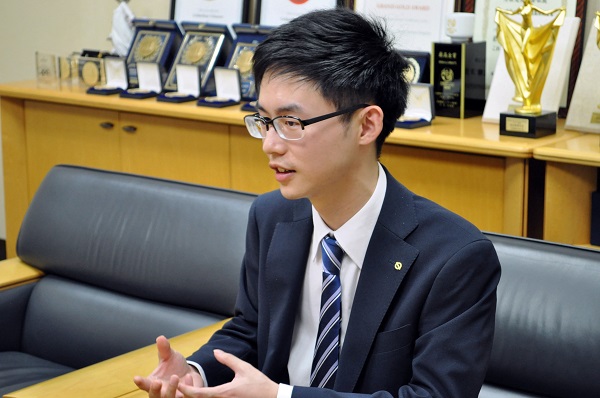 How did you go about job hunting? Did you know what you wanted to do?
After my internship, I decided I wanted to work at Gekkeikan. At the time, though, I had no idea how the process worked, so I attended some information sessions for a variety of companies. I attended all the Gekkeikan information sessions, too, of course! I knew this was where I really wanted to work, so I worked hard to get in.
I was late in starting my job search, since there's a kind of rule that you need to begin a year before graduating. From April to June, I was writing my entry sheets for application and so on everyday. It was really hard. My internship really helped me to learn about the sake industry and get an idea of what it's like to work here.
What do you do at your job now? What do you like about it?
I currently work in the trade department at Gekkeikan's main office (in Fushimi, Kyoto). I work in sales with overseas markets. I'm from Shanghai, China, so I work with the Chinese market, in particular with our subsidiary, Shanghai Gekkeikan. I also began helping with work on e-commerce project for the Chinese market.
I'm in charge of around 95% of the product we sell in China, and my work feels really satisfying when I imagine my family or friends buying a Gekkeikan product there. That's a point I can feel a lot of pride in.
I've also come to appreciate sake more since began working at Gekkeikan: I enjoy seeing how well sake pairs with Chinese food, and doing sake tastings, which I also think helps inform my work.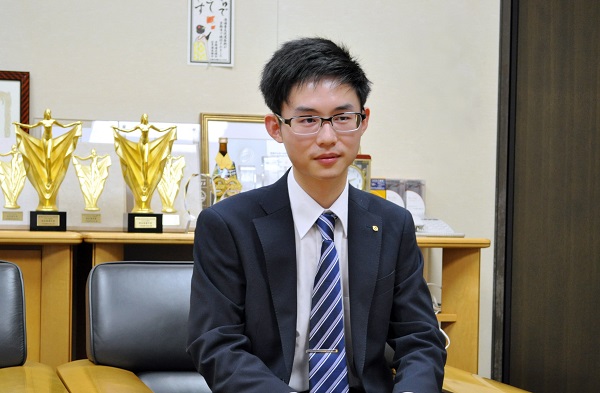 Has anything surprised you about the Japanese office environment since you started to work here?
I feel that my bosses and coworkers have an international understanding that makes it easy to work here.
Due to the pandemic, I've experienced a lot of remote work. Even now, we have a system that allows us to flexibly work remotely as needed, depending on the status of the pandemic. The trade department also uses a "flex" work system, which I think is really helpful, because it gives you more control over how you do your work.
We usually have year-end parties and other work get-togethers, but I haven't been able to participate in one yet due to the pandemic.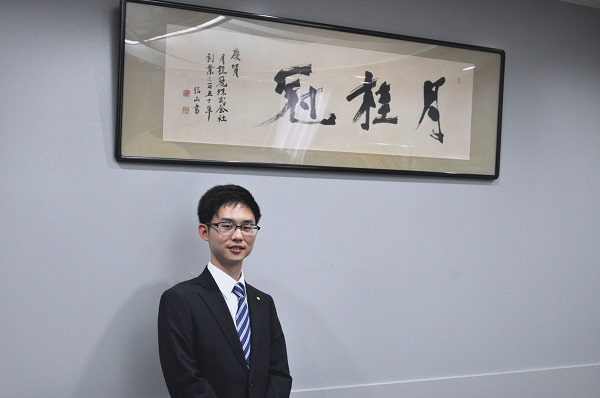 What would you say to other international students thinking about studying or working in Japan?
Since you've come all the way to study abroad in Japan, I suggest following the philosophy of the Japanese saying, "hyakubun ha ikken ni shikazu": "seeing once is better than much hearsay." In other words, go out and actively take part in life in Japan, and in working in Japan.