2023/10/20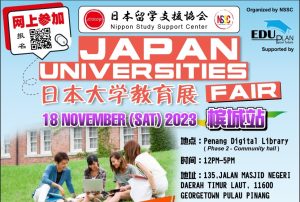 京都留学の魅力がわかる!
You can discover the charm of studying in Kyoto!
スタディ京都が2023年度日本大学フェア(マレーシア・ペナン)でブース出展します。
Study Kyoto will have a booth at the 2023 Japan University Fair (Penang, Malaysia)!
大学・学生のまち京都の魅力を見つけにぜひお越しください!
Please come and discover the charm of Kyoto, a city of universities and students!
日本留学に興味のあるお友達にもぜひシェアをお願いします。
Please share with your friends who are interested in studying in Japan.
開催日:2023年11月18日(土)12:00~17:00
場所:ペナンデジタルライブラリー(フェーズ2)
主催者:日本留学支援協会(Nippon Study Support Center)
参加費:無料
登録:事前に下記サイトから参加登録をしてください
https://asjas.org/ap/my2
Date: November 18, 2023(Sat)12:00pm~5:00pm
Place: PENANG DIGITAL LIBRARY (Phase 2)
No.135, Jalan Masjid Negeri, Daerah Timur Laut, 11600 Georgetown, PulauPinang.
Organizer: Japan Educational Exchanges and Services(NSSC)
Fee: Free
Register: For participation, please register on the following website in advance.
https://asjas.org/ap/my2
Study Kyoto公式ホームページ/ Study Kyoto:
https://www.studykyoto.jp/en/ (Study Kyoto HP in English )