University Graduates' Roundtable: Studying Abroad in Kyoto [Second Half]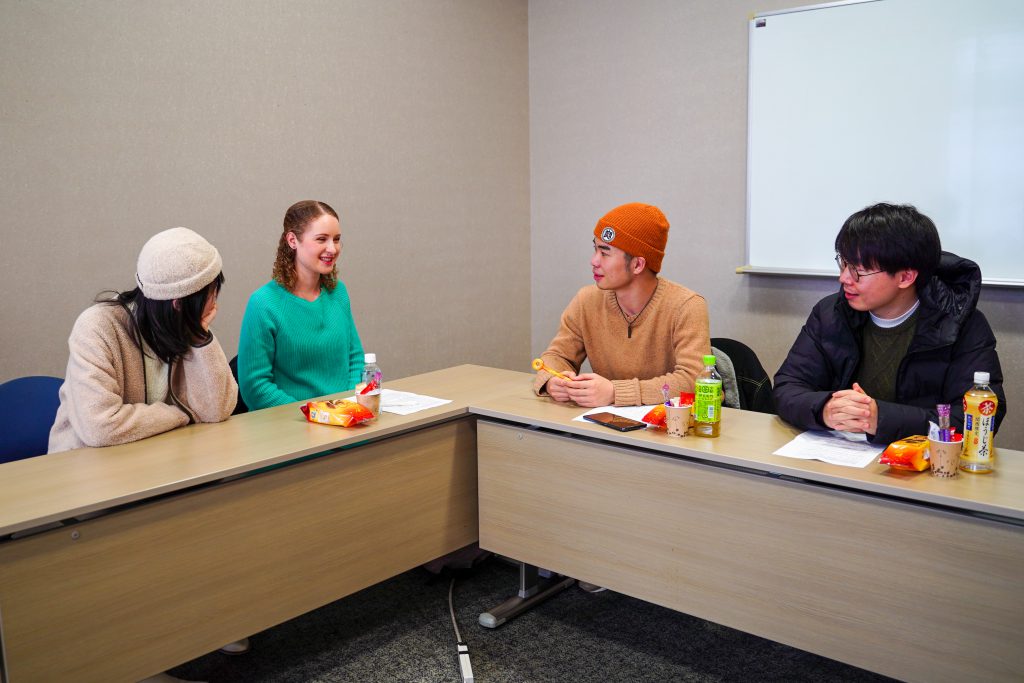 On February 2nd (Tuesday), soon-to-be graduates of Study Kyoto's foreign student PR Team (Doshisha University's Katrina from the U.S., Doshisha University's Zheng from China, Kyoto University of the Arts' Wen from China, and Kyoto University of the Arts' Wang from China) met to reflect on their past four years as university students in Kyoto. Due to the COVID-19 outbreak, their last year of college did not go as smoothly as they had expected. We asked them to share their experiences in Kyoto as well as their expectations for the future.

In the second half of the roundtable, the students shared their thoughts and experiences from their last year of college during the pandemic as well as their goals for the future.
The Last Year in University
Q) In the very last year of your university life, the COVID-19 pandemic hit the world really hard. This must have been something you had never experienced before. Can you look back on that year?
Katrina: I had taken plenty of elective courses in the three years before my senior year, so I had enough credits to graduate at that time. Also, for my club activity, I had already managed to turn over my responsibilities to the junior members. In my senior year, I was planning to travel abroad as much as possible. Unfortunately, that didn't happen in the face of the pandemic… Since I couldn't travel, I began to prepare for work after graduation – like reading some books that would help for my future job. I had enough credits to graduate, but I took some extra courses to broaden my knowledge. In addition, I lost some part-time jobs because of the pandemic, but was able to find new ones because of this unique period of time. In my point of view, when it comes to interpersonal communication in the COVID-19 affected world, the opportunities for face-to-face communication have been quite limited. But, under these circumstances, we have developed some novel ways to stay connected with people and that certainly has helped us to deepen our relationships even during the pandemic period. Although it is a pity that I couldn't travel abroad as I had planned, I feel that I have done what I could do. Of course, I still want to travel overseas someday and I am not going to give up on that.
Zheng: As I mentioned before, being knowledgeable in math is really important when you study in the Department of Economics. However, at the beginning of my university life, math was a weakness of mine. So, as a result, I failed all the math-related courses that I took my first year. Although I somehow managed to graduate, I could only make it by the skin of my teeth. Actually, I need to thank the pandemic for this. In the last spring semester, I took all my exams in the form of reports. And, for the first time, I was able to earn credit without failing any (laugh).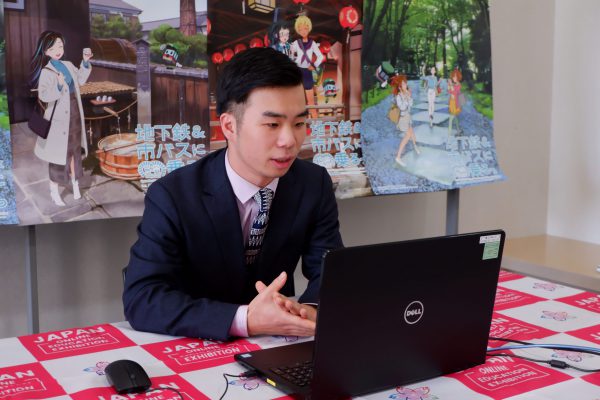 In addition, I started the job-hunting process in the autumn of my third year. In the beginning, I was planning to only look for jobs in Japan. However, because of the COVID-19 situation, almost all the company information sessions and job interviews were conducted through online meeting systems, such as ZOOM. So, I could apply for companies in China and have interviews without going to China in person. That actually gave me more options, both in Japan and in China. So, I could choose the company I wanted to work for. I could also save a lot on transportation expenses. So, I do feel that every cloud has a silver lining.
Q) Everyone has different plans after graduation. First, Ms. Wang and Mr. Wen, you took entrance examinations for postgraduate schools and successfully passed them. Could you tell us how you prepared for the examinations?
Wang: The most basic yet important thing is to collect enough information. First of all, you should attend information sessions of graduate schools that you want to go to in order to collect the latest information and to confirm whether the information you have collected elsewhere prior is correct. After that, check the content of the entrance exam to know what you need to prepare for. For example, the exams and submissions will vary between graduate schools. So, make sure to check whether the school you want to attend requires interviews, portfolio submissions, or written tests.
Then, you systematically prepare for the exam. In my case, the school I wanted to go to is an art university, which puts more weight on the portfolio than the written personal statement. Therefore, I mainly focused on perfecting my portfolio. Finally, you prepare for the interview. You need to practice it over and over again so that you won't feel nervous answering questions during the interview.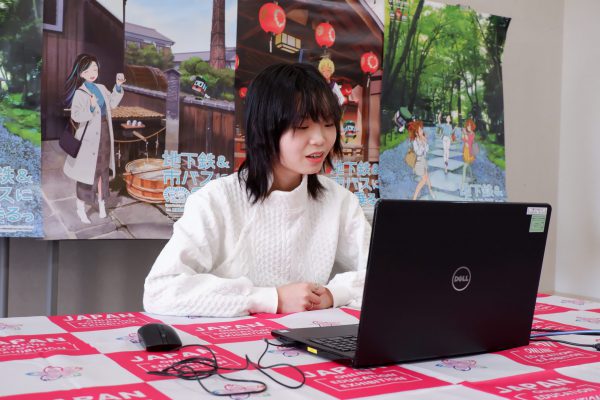 Wen: I quite agree with Ms. Wang's suggestions. I also think it's important to start preparing as early as possible because you never know what could happen, like this COVID-19 outbreak.
Q) Mr. Zheng and Ms. Katrina, since you two will start working after graduation, could you share your experiences with job-hunting in Japan as a fresh graduate-to-be with us?
Zheng: If you want to get a job in a foreign-affiliated company or a major company, I think you'd better start preparing for it more than one year in advance. I also recommend that you take the time to research the target company as well as to prepare for SPI. It is crucial to collect information when job-hunting. During your student years, try to think and figure out what you want to do in the future. You can do this through internships and part-time jobs. First, decide what you want to do. Then, a year and a half ahead of time, start researching and preparing for job-hunting.
Katrina: In the United States, your major in university usually determines what industry you will or can work in. But, in Japan, new graduates' jobs are not always directly related to their major. Although I majored in one of the liberal arts departments, I was able to learn about not only major-related fields but various industries and Japanese companies. In the end, I chose to work in Japan. However, even if I didn't get a job in Japan and went back to the U.S., I would have learned a lot from experiencing the job-hunting process in Japan. During my job search, I found one thing that was very different in Japan than in the U.S.: the length of internship programs. Internships in Japan are quite short, so you can participate in many and experience different jobs. The longest internship I attended was about two weeks and the shortest was only half a day. In the U.S., by contrast, the programs run longer. So, one person can probably manage to join only one or two companies at most. I experienced internship programs in more than 10 companies in Japan. It gave me the opportunity to see a lot of different companies and broadened my choices, which I really appreciate.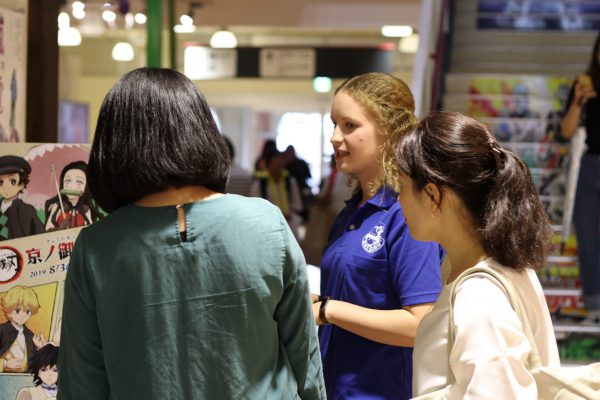 Even for Japanese students, job-hunting is quite tough. Some people think that foreign students have an advantage in finding jobs; but, I don't think that this is true (except possibly in the tourism industry). We all have to work equally hard. Having said that, finding a job can be a very long process. I think it's important to maintain a good balance, and relax when necessary.
Future Goals
Q) Based on the experiences you have gained throughout your university life, what are your ambitions moving forward?
Wen: I want to continue making movies. It's too far to see clearly yet, but my goal is to shoot feature-length films and compete in film festivals in two years.
Zheng: I will work in China, but the company itself is a Japanese company. So, I will use my six years of experience in Japan to act as a bridge between China and Japan. I think that will help me become an excellent member of society.
Katrina: I will apply what I have learned from university and society to my work for my company. The goal I want to achieve is to create a place where people from different backgrounds, cultures, and environments can work together smoothly and shine on a global scale.
Wang: I will try my best to find a job in Japan after graduating from postgraduate school by using the knowledge I will learn in school.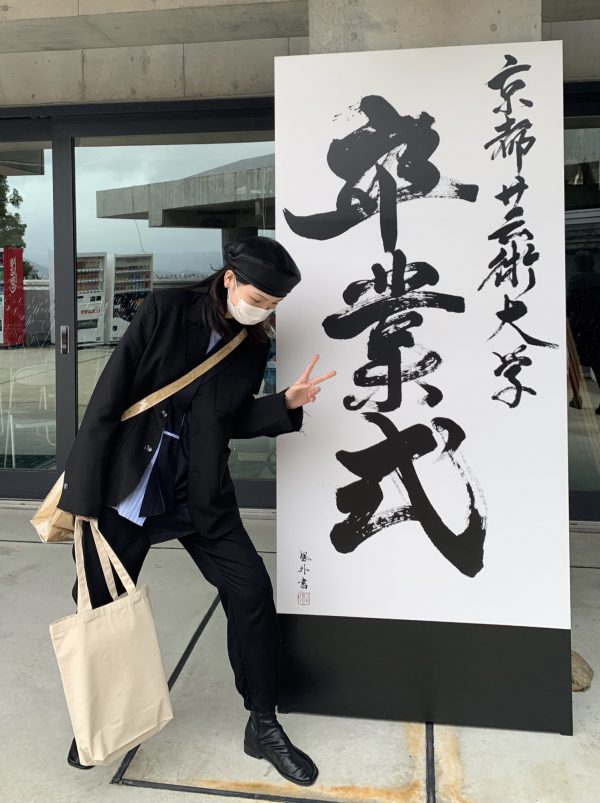 There are many other places in Japan to study besides Kyoto. But, the four students said they were glad they chose it. There are not only happy things, but also difficulties when it comes to living in a foreign country. However, we believe that every experience they had in Kyoto will help them in the future. We are looking forward to seeing their successes in the next stage of their lives. With all they gained here, they can do it!
Study Kyoto is always waiting for you here in Kyoto!