Kyoto's Japanese Language Schools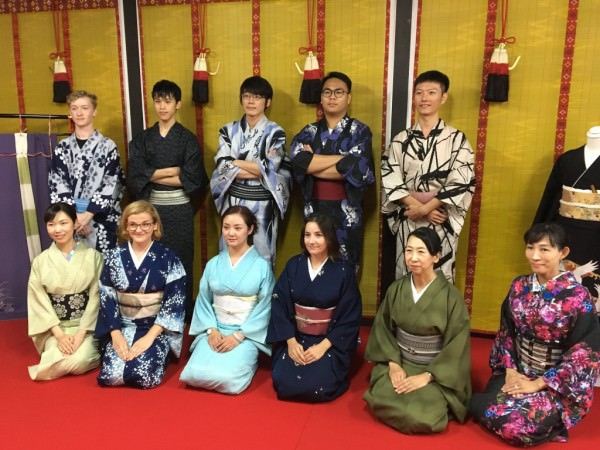 In Japan, and in Kyoto, there are a countless number of Japanese Language Schools. What type of Japanese Language School is fit for you? For those thinking they might want to attend one, it may be difficult to imagine what a Japanese Language School in Japan would be like. That is why I will share with you my one day experiences at two of Kyoto's Japanese Language Schools.
Kyoto Center for Japanese Linguistic Studies
What kind of school is it?
The Kyoto Center for Japanese Linguistic Studies prioritizes its student-teacher ratio, and offers cultural experiences that are usually hard to come by, but available here because the school is located in Kyoto. Many of the students strive to study or work in Japan, some hope to raise their Japanese to a high level, and some are looking to learn about Japanese culture and art. For that reason, emphasis is placed on communication in class, and the school aims to offer a balance of reading, writing, listening, and speaking. Also, in the medium and high levels there are classes named "Business Class," and "Culture and Art Class." International students are able to select classes as they wish. This time, I participated in one of the culture and art classes.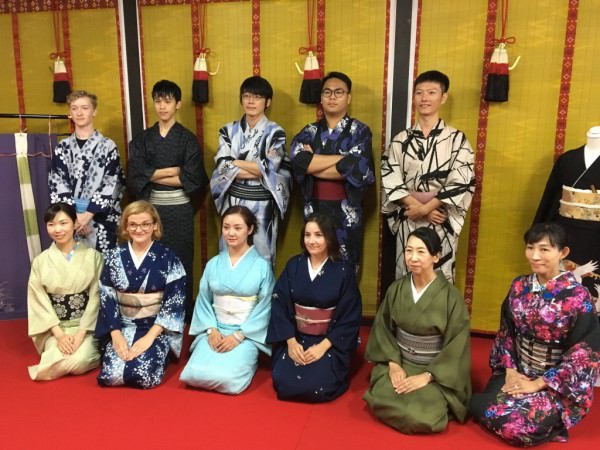 Kyoto Kimono Academy Visit
After studying a bit about kimono ahead of time, the international students visited Kyoto Kimono Academy. Here, they learned from the teachers of Kyoto Kimono Academy about the history of kimono and how to mix and match their different parts. Then the students actually got to try on a kimono.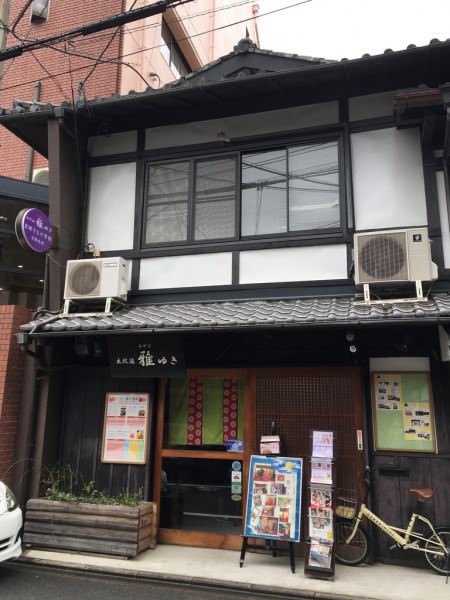 Kimono originated in China, and began to develop their own distinct style in Japan around the Heian Period (around A.D. 794 – A.D. 1185). The kimono teacher taught us how the kimono has changed over the years, and showed us drawings to help us follow along. She also mentioned that because the emperor will be changing, television stations will be talking about the kimono worn in the imperial ceremonies, so we should try to keep an eye out.
Next, we learned about different types of kimono. We learned what kind of kimono would be appropriate to wear at a formal occasion when suits are being worn, and how to tell this kind of kimono apart from others. We also learned what kind of kimono is appropriate in a casual setting such as when t-shirts are being worn, and how to tell these apart. There were drawings to go along with this explanation as well.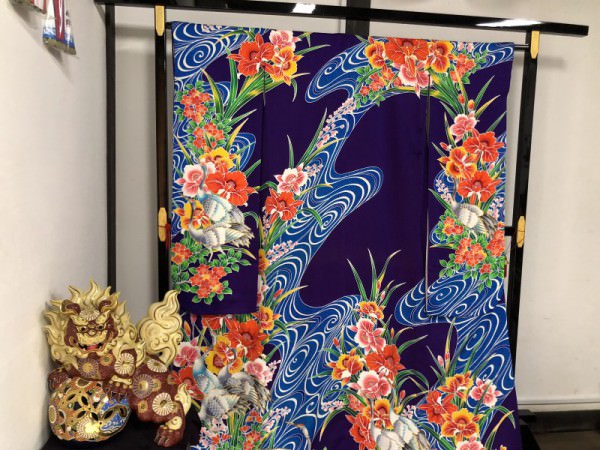 After this explanation, we learned three ways of matching the different parts of a kimono. The first way is to match the colors of the pieces, the second is to put together opposite colors, and the last is to match the designs. The teacher told us matching opposite colors gives an outfit a modern feel, and matching the patterns gives it an intelligent feel. Putting together a western clothing outfit and a kimono outfit is a bit different, isn't it?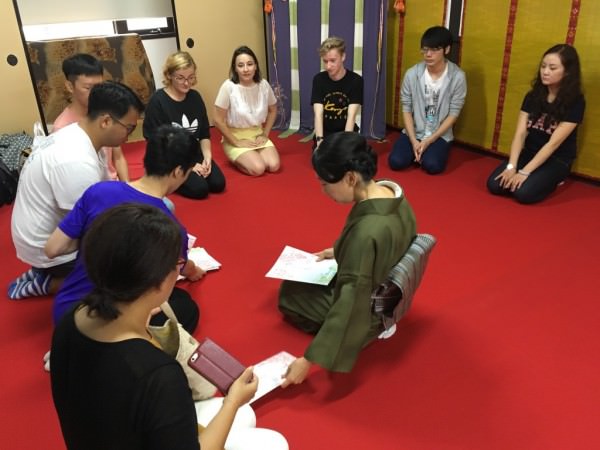 Finally, it was time for the international student to get to try on kimono. Each student was able to pick out a kimono and an obi sash. In addition to this, the girls were able to pick out a few accessories to embellish the look. There were many options to choose from, some very colorful, and others a single color. The pattern that stood out to me most was one with scorpions. The kimono teachers were extremely skilled and put the kimono on the students one after another.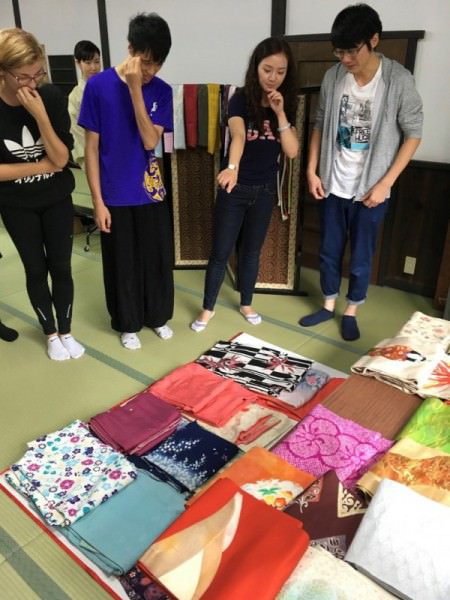 Some of the international students had worn kimono before, but for many it was their first time. When asked how they decided how to match their pieces, there were many different answers. Some said they chose the color they wanted to wear, others said they chose a color that matched the season, and still others said they tried to choose colors that would match their eye or hair color. After taking single shots and group photos, a picture of the whole class was taken.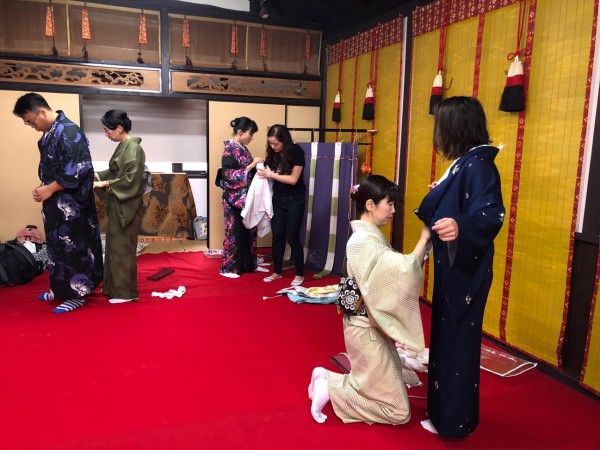 The international students seemed to really enjoy this experience, and almost spent too much time taking photos. Even though I have had the chance to learn about kimono previously, I was able to learn even more about kimono by participating in a field trip such as this one to Kyoto Kimono Academy. I was happy to be able to see how kimono are put on and to ask the Kimono Academy teachers as much as I wanted about kimono. I strongly felt that these international students were able to have this experience because they attend a Japanese language school here in Kyoto.