15+ Ways to Save Money in Japan
Travel & Transportation
For travel around Kyoto City, considering investing in a bicycle. Kyoto is a very bicycle-friendly city, and you'll see many students and others commuting by bicycle. There are few hills, and the scenery is beautiful as well!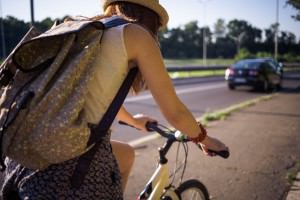 And travel? You're located in Kyoto! Why would you want to leave?
Coming to Japan as a student on study abroad puts you in a wonderfully unique position to travel. Japanese universities have long winter and spring holidays, and your student schedule means you can take advantage of some very reasonably priced travel options.
For long-distance travel within Japan…
By  bus: Night buses (夜行バス) , like those operated by JR or Willer (English website: http://willerexpress.com/en/), can cost anywhere from 3000 yen to over 10,000, but on the cheaper end are only a fraction of an airplane or bullet train ticket. If you don't mind sleeping in a reclined bus seat, falling asleep in one location and waking up the next morning at your destination can be an option well-worth it for college students.
By train: Seishun 18 Ticket
Allows you to see parts of Japan you would miss on the bullet train, experience the flavor of local trains; takes a long time, but don't worry, you can take friends with you! Split with up to 5 people.
By plane: Several budget airlines operate in Japan. There can be flash sales for as low as 1,500 yen, so be on the look-out!
Lodging
If your university doesn't offer other options for housing, like dorms or homestay, share housing can be a good alternative. Of course, renting an apartment by yourself is also an option, but sharing one with roommates is not only more cost-effective, you might just make some friends. Because Kyoto is home to many universities, many students advertise open rooms in shared apartments online, on websites like Facebook, Craigslist, or various Japanese roommate search sites.
If you do decide to search for your own apartment, try searching for government "UR Housing." Renting in Japan involves many fees. Just to enter an apartment can be extremely expensive, often involving several months' rent, a deposit, "key money," and "thank you" money—a fee paid to your landlord. Government UR Housing does not include these fees, and can cut the cost of moving by a great amount.
Lodging on Vacation
Hotels can be very expensive, and even more so during high-travel times of year, such as New Years, and Golden Week in early May. Here are some low-cost alternatives.
Capsule hotels!
Originally developed as a place for traveling businesspeople (Men, in particular. Though capsule hotels are growing in popularity with women, women's capsules are still relatively limited) to rest their heads, capsule hotels are just what they describe: a "capsule"-like sleeping space with a pull-down screen for privacy. Luggage is placed in lockers, and bathing areas are typically shared. Capsules can be great when you simply need a safe stop to sleep and bathe on your travels, and can be a fun experience in and of themselves.
Hostels
A similar alternative is youth hostels. Sleeping and bathing arrangements may vary, but hostels are also very affordable, and frequently occupied by other young travelers.
Guesthouses
Similar to hostels, some Kyoto Guesthouses are even situated in traditional Japanese houses. Guesthouses can feature private rooms and dormitory-style rooms.