Experience Kyoto Throughout the Seasons on Study Abroad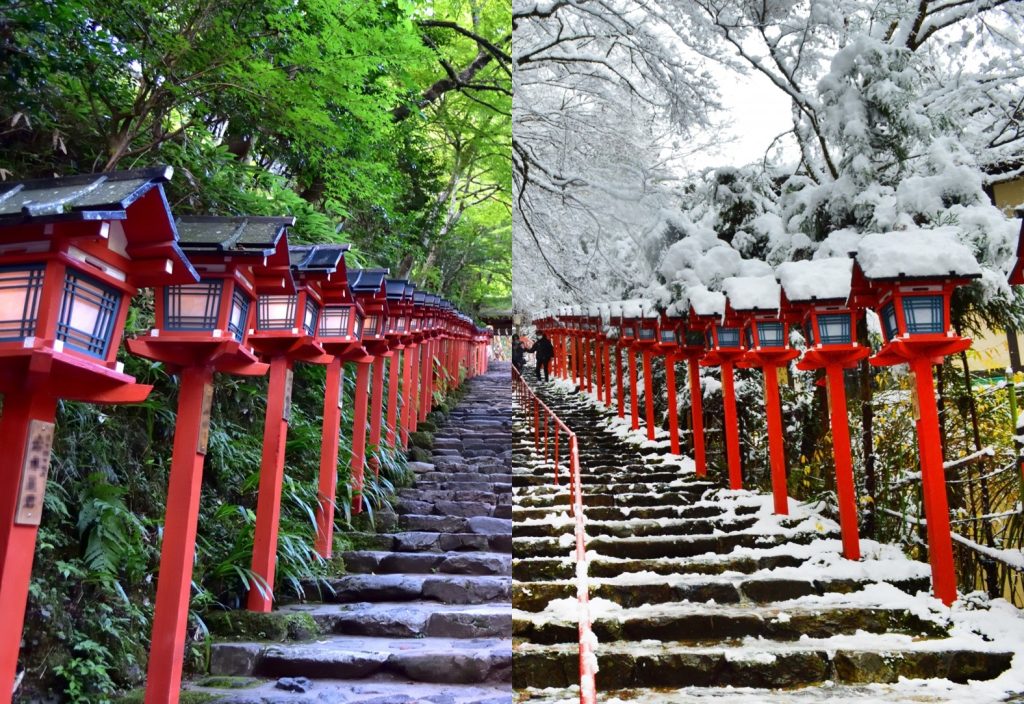 Kyoto is a beautiful city where you can enjoy the quintessential "Japanese-ness" in the country's traditional culture and landscapes. Every year, many students from overseas come to study abroad to experience this beautiful city. Kyoto also offers different charms in each of its four season. Being able to experience daily life in Kyoto is also a valuable experience that you won't find on just a simple visit.

In this article, we'll take a look at some of Kyoto's seasonal sights and festivities throughout the year. Discover the real delights of studying abroad in Kyoto, and come experience it for yourself!
Spring
・Cherry Blossom Viewing
Spring in Japan is all about cherry blossoms. Kyoto's cherry blossoms begin to bloom in late March and reach full bloom in early April. There are many famous cherry blossom viewing spots in the city, including the Philosopher's Path and the Keage Incline. However, when you go through a quiet alleyway away from tourist spots in Kyoto, very often, you'll suddenly find beautiful cherry trees in front of you. Slowly enjoying the cherry blossoms quietly blooming in everyday places, such as small parks, temples, and schools in the neighborhood is a luxury that can be experienced when you live in Kyoto.
In addition, there are long rows of cherry blossom trees on both sides of the Kamo River, a popular spot among the locals, which doubles as a popular spot for cherry blossom viewing and picnics. During the next cherry blossom season, bring along a bento lunch with your friends and try enjoying the cherry blossoms along the Kamo River.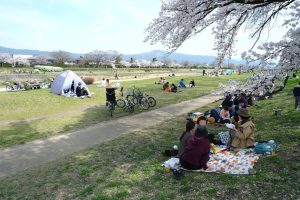 ・Kyoto's Three Major Festivals: Aoi Festival 
The Kamo Matsuri, nicknamed the Aoi Festival is one of the three major festivals in Kyoto held every May. With a history of more than 1,500 years, this traditional event is held to pray for a good harvest, and its main attraction is the Roto-no-gi procession on May 15. People dressed in Heian period costumes march for about 8 kilometers from the Kyoto Imperial Palace to Kamigamo Shrine via Shimogamo Shrine. If you get the chance to see the festival, notice the Aoi (or "mallow") leaves, from which the Aoi Festival gets its name, displayed on the costumes, cows, and horses of the people in the procession.
Summer
・Noryo Yuka Terraces
In May, along the Kamo River between Nijo and Gojo Streets, "Noryo Yuka" will begin to appear. "Noryo Yuka" are elevated platforms built out from about 100 restaurants and restaurants along the Kamo River, elevated to keep you cool in summer, where you can enjoy food and tea while overlooking the Kamo River. In general, these platforms are put out from May to September. Try experiencing a very Kyoto summer activity during the period while the platforms are around!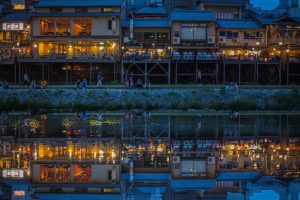 ・Hydrangea Season
From mid to late June, hydrangeas in Kyoto are in full bloom. Starting with Mimuroto-ji Temple, which is famous as a hydrangea temple, visiting temples and shrines in Kyoto to appreciate hydrangeas is a pleasure unique to this time of year. It's fun just to walk among the various colors and types of hydrangeas, but it's also fun to try to find the few heart-shaped hydrangeas there that are said to bring happiness. You might think that a sunny day would be the day to go see  flowers, but hydrangeas, which only bloom during the rainy season, don't fall into this category. Hydrangeas offer a particular look when their petals are shiny and wet in the rain.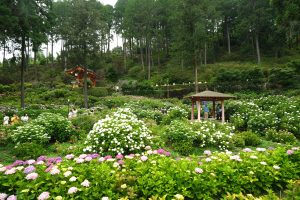 ・Kyoto's Three Major Festivals: Gion Festival
One of Kyoto's summer traditions is undoubtedly the Gion Festival in July. This grand month-long festival originally began to ward off a plague, and has a history of more than a thousand years. In July, in the Sanjo and Shijo areas, which are in the center of Kyoto, decorations related to the Gion Festival appear, and you'll hear musicians practicing traditional music throughout the city.
The peak of the event is the "Yamaboko Junko" procession, which is held twice, on July 17th and 24th, and is registered as a UNESCO Intangible Cultural Heritage. The 34 traditional festival floats that parade through the city are decorated with traditional crafts and textiles from Japan and abroad, and are even referred to as "moving museums."
During Yoiyama, a part of the festival held on the eve of the procession, you can see the floats up close, beautifully illuminated by lanterns. You can also enjoy local street food, and the lively festival atmosphere. Be sure to experience summer in Japan at the Gion Festival!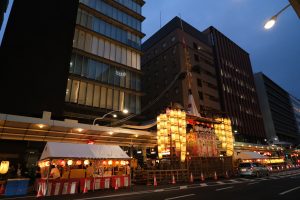 ・Gozan-no-Okuribi Ritual Fires
Mid-August (around August 13 – 16) is the Obon Festival in Japan. It is said that during this period, the souls of the departed and people's ancestors return from the world beyond and spend time with their families. A traditional event, known as Gozan-no-Okuribi, is held in Kyoto on the night of August 16th, the last day of the Obon Festival. In order to send the souls safely back to paradise again, great fires are lit on the five mountains that surround the city of Kyoto. The fires are lit in the shape of large Japanese characters, followed by fires in the shape of a ship and a torii gate.
At 8 p.m. on August 16th, if you look up at the mountains north of the city, you'll be able to see some fantastic scenery like in the photo. It's sure to be an unforgettable memory.