2022/12/09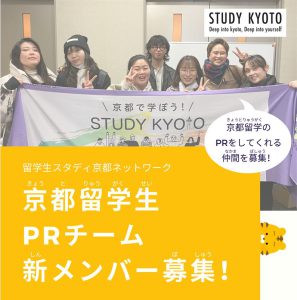 留学生スタディ京都ネットワークでは、より多くの人に「大学のまち・学生のまち京都」を知ってもらい、京都への留学を促進することを目的として、京都で学ぶ現役留学生による「京都留学生PRチーム」を運営しています。
今回、2023年1月ごろから勤務スタートできる、ベトナム出身の留学生を1名を募集します!
私たちと一緒に、留学先としての京都の魅力を外国人留学生の視点から発信していただける方、ご応募お待ちしています。なお、チーム内の会議・連絡は日本語になりますので、日本語でのコミュニケーション能力が必要となり、SNSの投稿は英語になりますので、英語の基礎的なライティング能力も必要です。
応募される方は、以下の応募要項をご参照いただき、応募用紙をダウンロード、ご記入の上、2022年12月27日(火)までに事務局までメール(日本語)にてご応募下さい。
※新メンバーが決まった時点で応募を締め切る場合があります。
Study Kyoto* is running the "Kyoto Student Promotion Team" consisting of international students currently studying in Kyoto, with the aim to draw international attention to encourage more students from overseas to come and study in Kyoto.
We are looking for an international student from Vietnamese to join our team (, hopefully from some time in January). If you are interested in promoting Kyoto as a study-abroad destination, please apply!
Please note that, since the team meetings and communication are conducted in Japanese, the candidates are required to have high Japanese communication skills. Also, you will be asked to write SNS posts in English. So, you need to have a basic English writing skill.

Please download the application requirement and the application form from the following links.
The application deadline for the positions is Tuesday, December 27th, 2022. Please make sure to send your application form by then. ※Please note that the application may be closed even before the deadline when a new member has been decided.
*Study Kyoto: An associated network formed by schools, companies, and governments in Kyoto whose purpose is promoting Kyoto as a student city overseas and supporting international students in Kyoto.
応募要項のダウンロード/ Download the application requirement→ Requirement
応募用紙のダウンロード/ Download  the application form→ Form