KyoTomorrow Academy, Kyoto's International Student Community
Cultural Experience Program: Cheng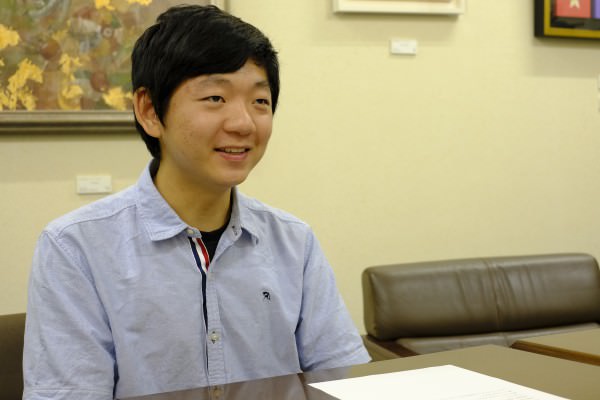 Lin Tzu Cheng is from Taiwan, and currently studies at Ritsumeikan University in the International Affairs department.
Q: What first made you interested in studying Japanese?
A: When I was little, I loved trains and the shinkansen (bullet train). Naturally, I've been to both the Tokyo and the Kyoto Railway Museums! Japanese also uses Chinese characters, so I thought it would be easy to study.
Q: Why did you decide to join KyoTomorrow Academy?
A: The TA at my graduation seminar at university was a member of the Support Team at KyoTomorrow Academy, and gave me a pamphlet about it.
I wanted to join something outside of school, and I also wanted to experience Japanese culture and history, so I thought the Cultural Experience Program would be a good match.
Q: What kind of cultural experiences have you participated in so far?
A: The first session I ever joined was a chopstick-making lesson. I've also joined sessions for yukata (summer cotton kimono), Japanese drums, and traditional Japanese sweets.
At the yukata session, we didn't just get to try the yukata on—they also taught us about the yukata-making industry. People from the industry prepared a bunch of things for us, and taught us, so it was a really valuable experience.
The cultural explanations are all in Japanese, but it's different Japanese than what I learn in school, and the Japanese that the artisans speak was really hard for me to understand. But that was an interesting experience, too. At school, my classes are in English, and I don't have much opportunity to use Japanese, so I thought this was a great chance to practice. The other members help by interpreting, too. At first someone else was always interpreting for me, but now I'm starting to interpret for other people, too. The students all help each other out by interpreting and explaining the bits they don't understand, and make sure to help each other learn.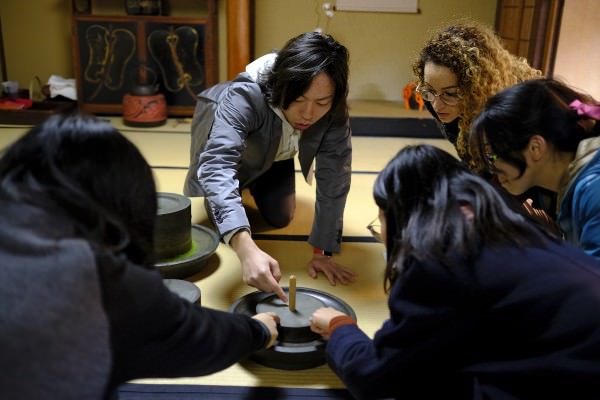 Q: What is the most interesting thing about participating for you?
A: Everything's a new experience, so it's all interesting for me. It's fun to take about half a day and go out and do something with 20 or 30 people.
The cultural experiences are free, so I think it's really easy to join. All of KyoTomorrow Academy's events are free.
The chopstick-making was much cooler than I expected, too! When you think of Kyoto, things like yukata and Japanese sweets are famous, of course, but I'd never really thought about chopsticks before. I was really impressed with the machiya inn where they'd been making chopsticks for over 100 years.
I still have the chopsticks that I made then, too!
Q: Is anything difficult for you about participating?
A: Sure. This is mostly about Beyond N2 (Japanese Study), but there was a lesson about talking on the phone… the idea was that you'd been in some kind of accident, and you had to call the police, but when I was asked for my address, I realized that I wasn't able to read it! (laughs)
Q: Please share a message for students who might be thinking of joining KyoTomorrow Academy.
A: Don't worry if you don't have any friends to join together with. People are very welcome to join on their own. Most of the people here are meeting for the first time anyway, and you'll definitely make friends, so please feel free to join on your own. We accept people throughout the whole year, so you can start anytime.
KyoTomorrow Academy is looking for new members!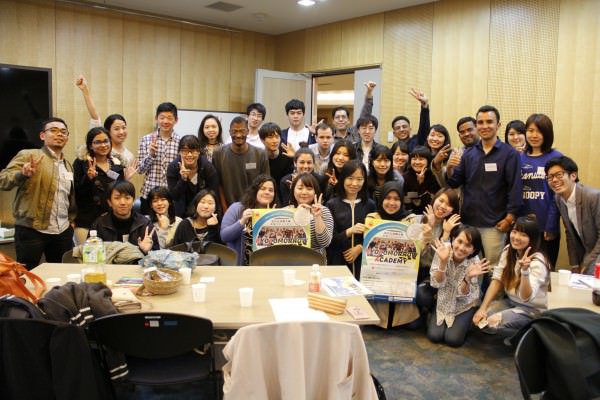 Through their conversations, congratulating one another on job offers and sharing advice on their job searches, it's easy to see the kind of friendly atmosphere amongst KyoTomorrow Academy members. Even living far from your home country, a community of friends and support can make things a lot easier—you'll also be able to make friends with other students who want to study Japanese and/or work in Japan in the future, and even enjoy some fun cultural experiences while you're at it.
If you're interested to learn more about KyoTomorrow Academy, please take a look at our website below. We're always looking for new members!
Official website: https://www.studykyoto.jp/kyotomorrowacademy/en
Check out our Facebook page: we're always updating it with new information!