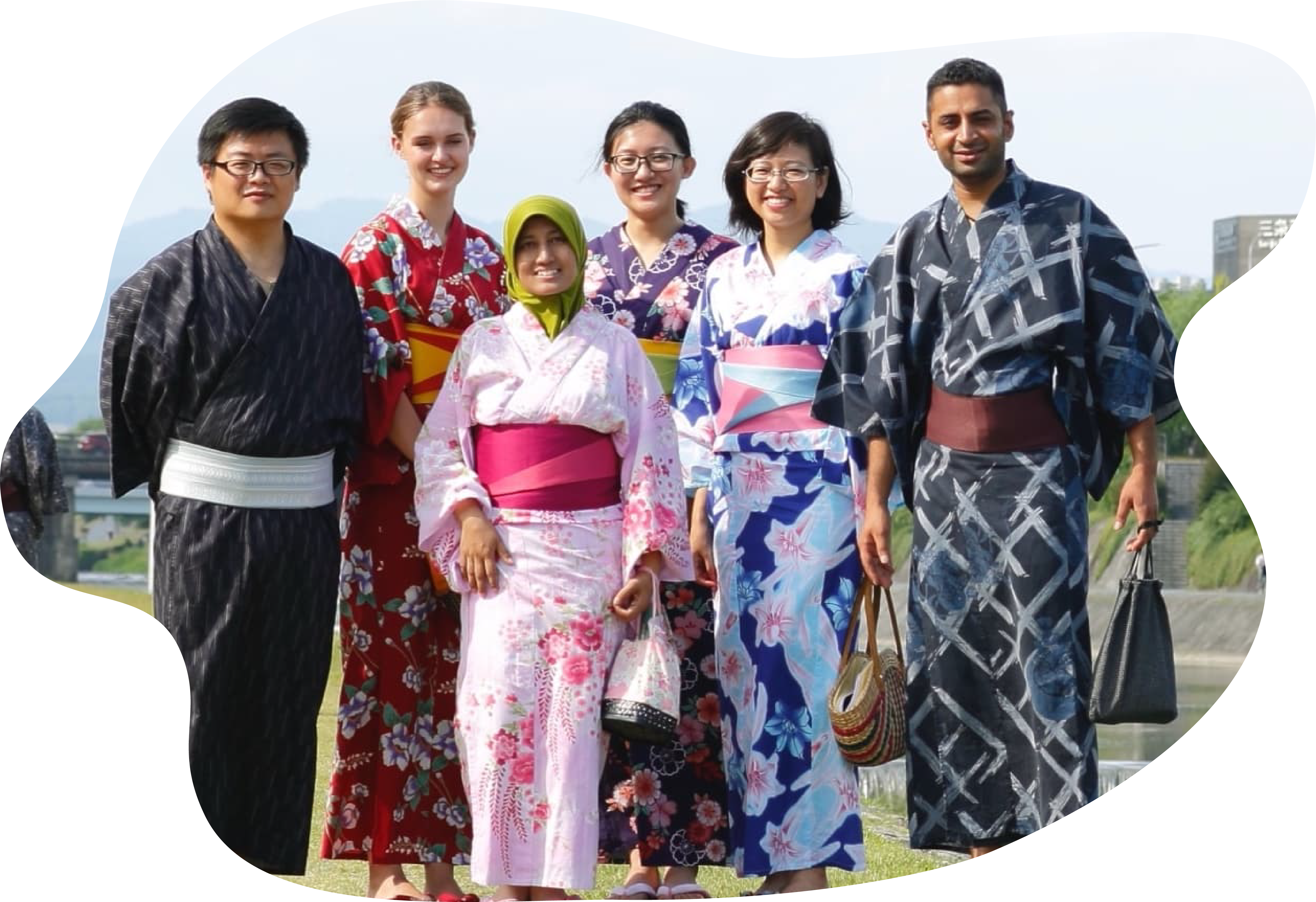 If you want to study in Japan,
study Japanese in Kyoto!
Famous as a tourist city, Kyoto is actually a college town, home to many students. International students from many different countries study at Japanese language schools in Kyoto.
Let us show you all the appeal of Kyoto as a place to study Japanese!
Three reasons why international students choose Kyoto
Kyoto is an ancient city with a history of over one thousand years, but it has also given rise to many new cultures throughout its history.
In the city of Kyoto, you can learn the Japanese language and experience Japanese culture as a part of daily life.
There are countless reasons to choose Kyoto as a place to study abroad, but here are three of the most commonly given reasons.
01.
A town where you can really feel Japanese history and culture
Kyoto is known as the "capital of a thousand years." It is home to many shrines, temples, and other cultural heritage sites where you can encounter the history of Japan. It is also a city where traditional Japanese arts such as kimono, tea ceremony, and flower arrangement have been developed. Here, you can witness Japanese history and culture up close as a part of daily life. Some schools incorporate cultural experiences, giving students opportunities to learn more deeply. Many international students participate in traditional festivals as volunteers. New kinds of Japanese culture, such as manga, anime, and video games, are also growing in Kyoto, which is the headquarters of Nintendo, a world-renowned video game manufacturer, and anime production companies that are popular even overseas. This aspect—the old and the new developing in harmony with each other—is a major attraction of Kyoto.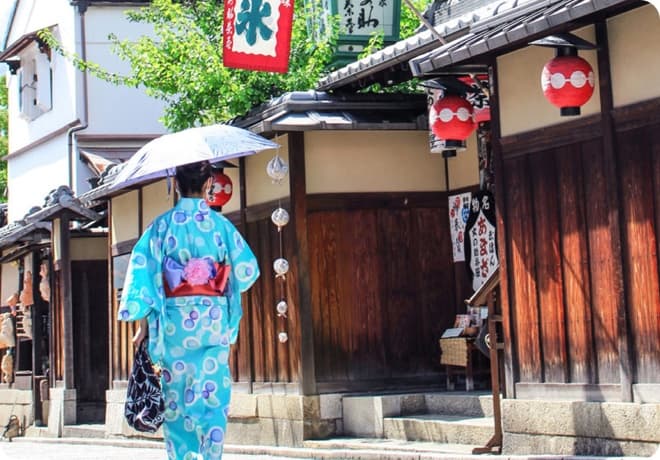 02.
An international city that attracts students from many different countries
As a city of international tourism, Kyoto attracts about 87 million visitors a year from Japan and abroad. It is also a popular destination for international students, with about 12,000 international students from various countries studying there. Students from diverse countries study at Japanese language schools in Kyoto, taking advantage of international interactions during their stay in Kyoto. Kyoto International Community House and the Kyoto Prefectural International Center serve as the main centers for counseling services and international exchange for foreign residents as a community. In addition, due to the recent increase in the number of visitors from Muslim countries, halal restaurants and places of worship have been established to accommodate them.
Students can live here in comfort and with peace of mind.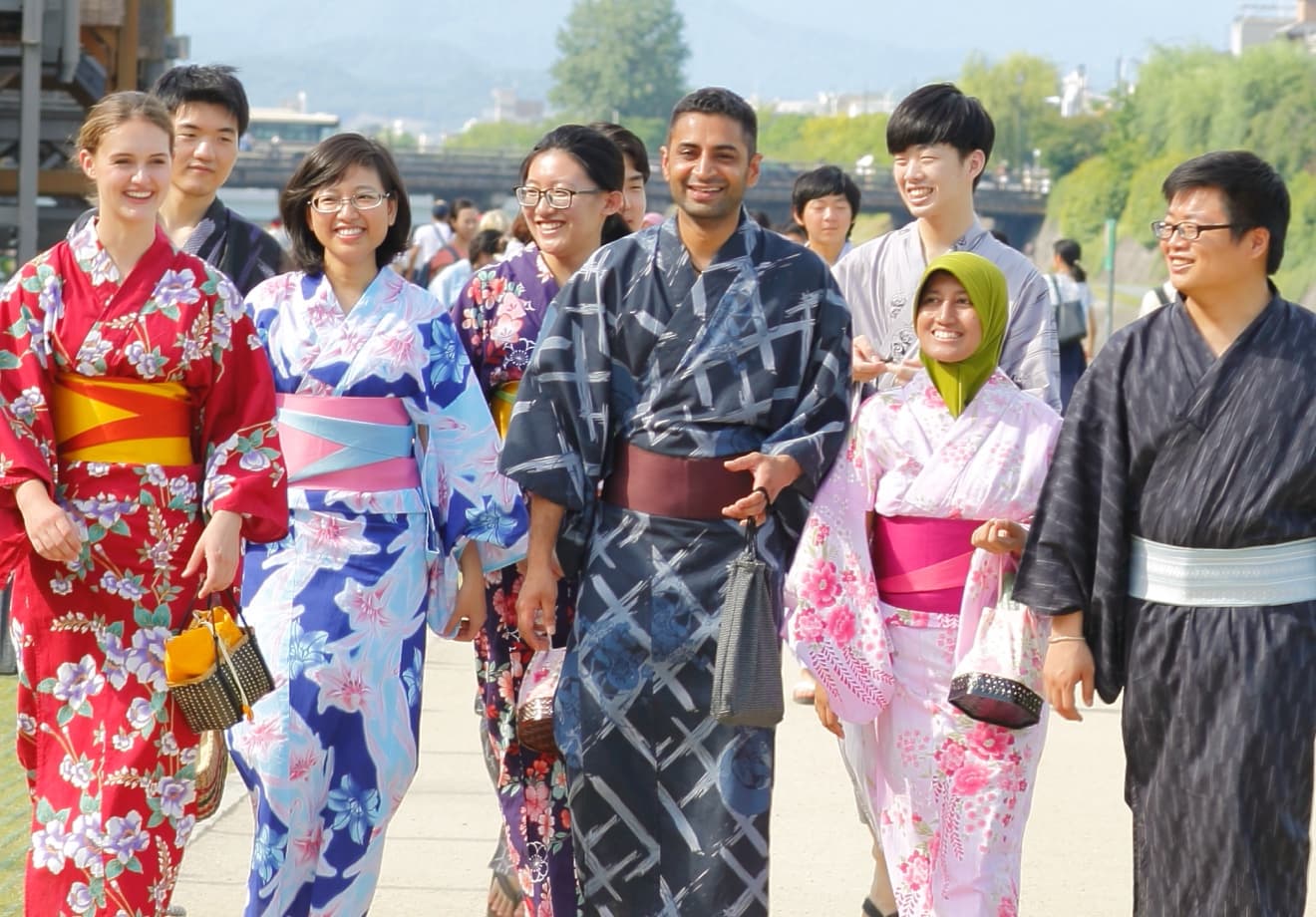 03.
A livable city for students
Kyoto is a relatively compact city, with a lower cost of living than the Tokyo metropolitan area. The central area is quite flat and level, making it convenient to get to school and other daily activities by bicycle. There are many supermarkets, shopping malls, and department stores in the city, so there is no need to worry about shopping. In addition to Kyoto's historical townscape, the Kamogawa River runs through the city, which is surrounded by nearby mountains, making it a relaxing and calm environment for study, unlike larger cities. Also, with over 30 universities in the city, Kyoto is known as a college town where many university students live, making it a safe and pleasant location for students living alone.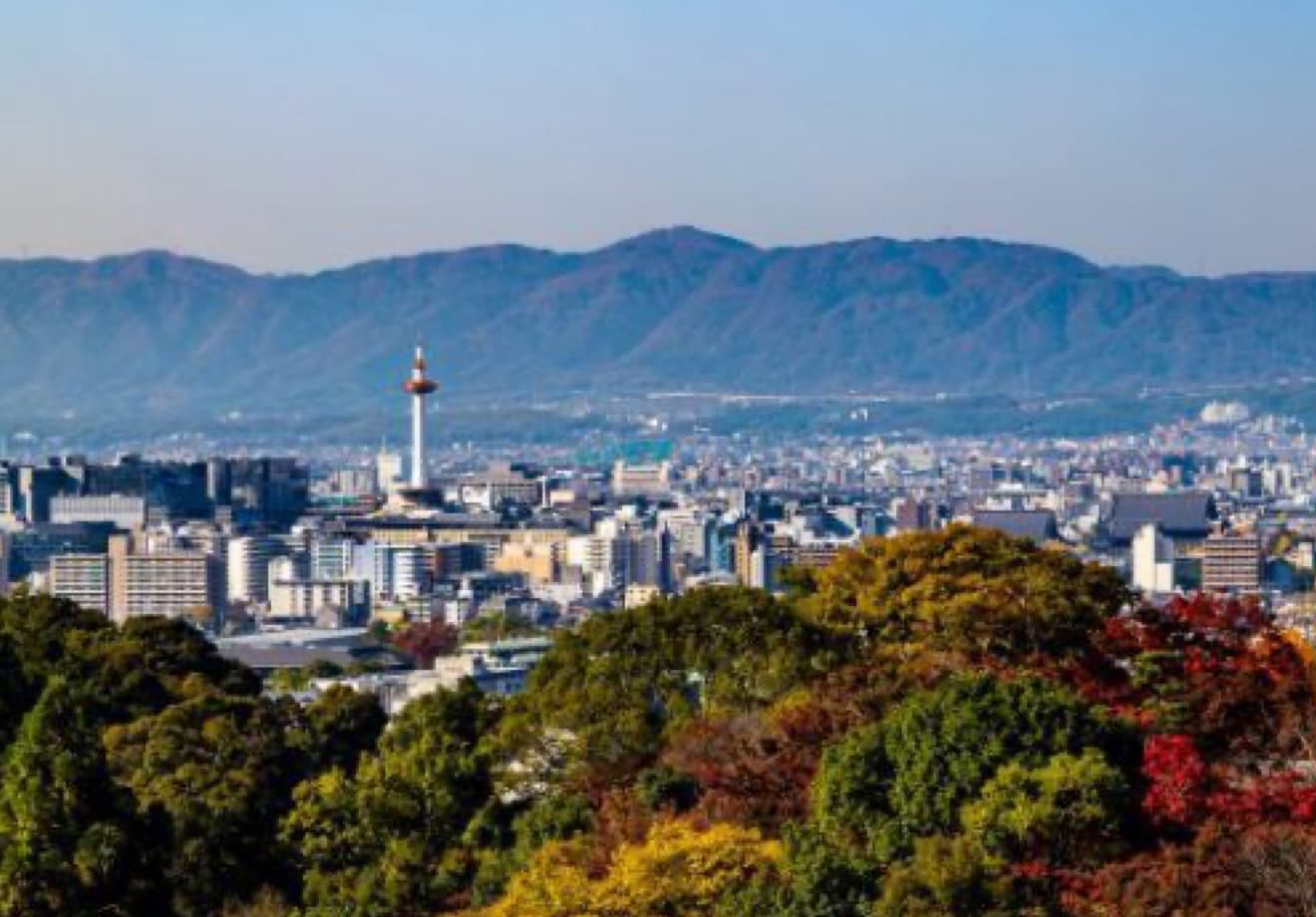 We asked Japanese language students in Kyoto
For those who have yet to travel to Kyoto, it can be hard to imagine your actual life as an international student.
"What is a Japanese language school in Kyoto like?" "And what kind of people study in Kyoto?"
So we talked to some international students currently studying at Japanese language schools in Kyoto!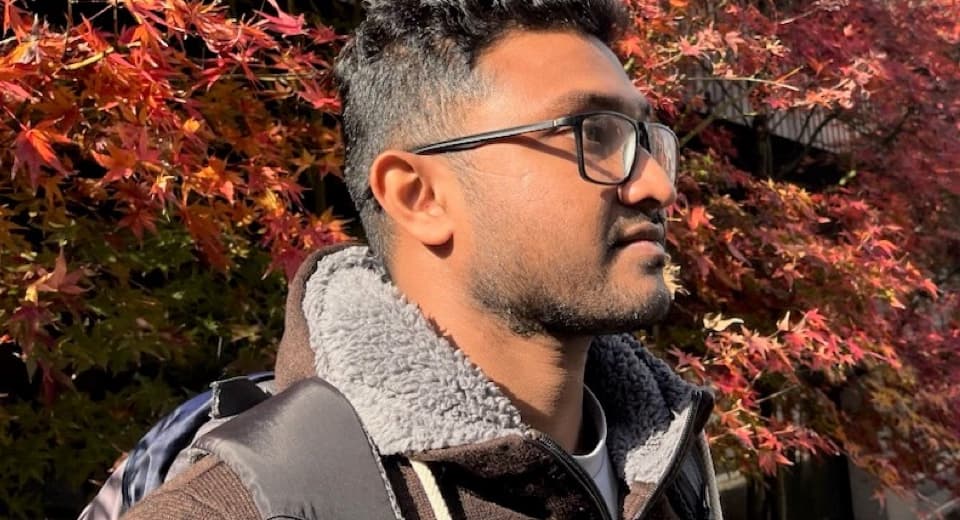 As a city, Kyoto has over 1200 years of history and a rich cultural heritage. It's a very beautiful city with beautiful surroundings, is very easy to live in, and has a very low cost of living, making it ideal for students. Surrounded by mountains on three sides, Kyoto also has a unique climate. The most common mode of transport around Kyoto is the bicycle. It's an inexpensive, environmentally friendly way to get around town. Public transportation such as trains, subways, and buses is also available, and Kansai Airport is within easy reach. Students from countless countries come to Kyoto to study, making it a great city to learn about the cultures of different countries. Kyoto is simply a great place to study Japanese language and culture. Japanese people in the city are friendly. Several famous Japanese festivals are held in Kyoto. It's also very well suited to students because it is quiet, peaceful, and less populated than other cities.
Country of origin
Sri Lanka
School
ISI Language School, Kyoto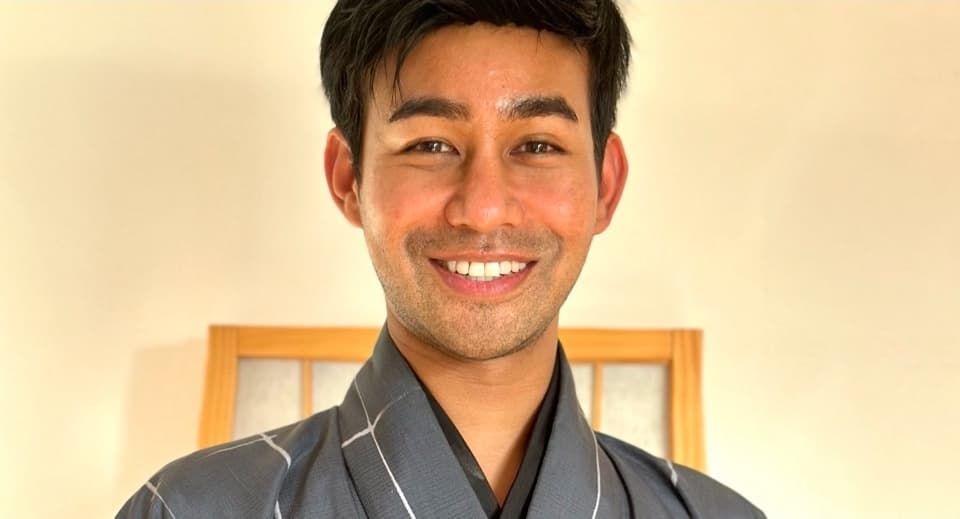 I love the atmosphere of Kyoto, which is very calm and suitable for concentration in study. Also, transportation is convenient, making life easy. Personally, I like the traditional culture of Japan, and therefore Kyoto is the place I want to live my life. Here, there are many cultural places, and it is a cultural city where I can make the most out of my life staying here. I am studying at Kyoto Minsai School because of my friend's recommendation. I found that the teaching methodology is well-qualified. For example, the lecture is easy to understand, and all instructors really pay attention to their teaching. On top of that, the learning has its systematic, and the materials are updated. There is an application that students can communicate with the school for 24 hours. Also, the recommendation of a part-time job is available, so there is no need to go and look for it yourself. Another part I appreciate is that various cultural, sports, and travel activities are included. All teachers are kind and take care of every student, and I feel so much gratitude for Sensei's dedication. I will absolutely recommend this school to my Thai friends.
Country of origin
Thailand
School
Kyoto Minsai Japanese Language School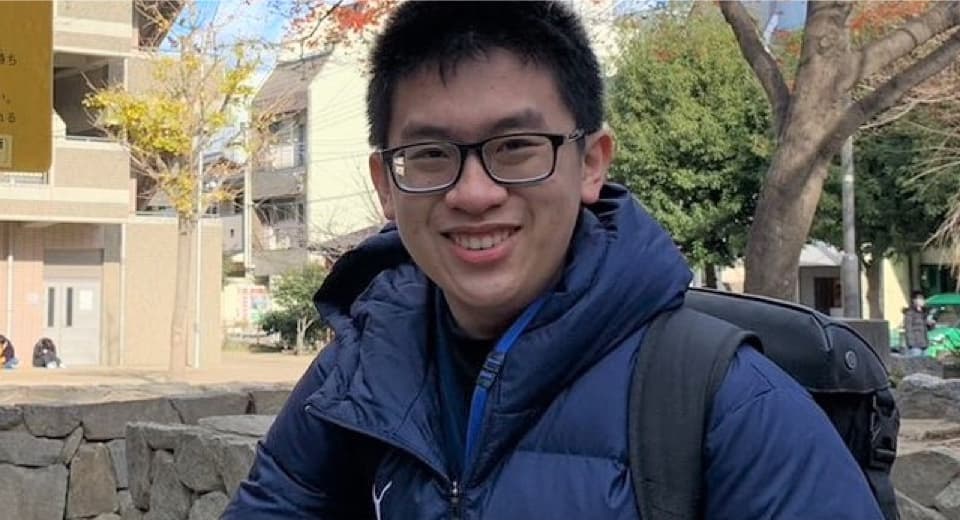 My school life here is very enjoyable. I learn many things and meet a lot of new people. I attend a school called Kyoshin Language Academy. I chose this Japanese language school because it was recommended to me by a senior student. The senior student told me, "The teachers are nice, and whenever I have a problem, they help me out. There are also a lot of fun extracurricular activities." After coming here, I realized that all of this was true. There are a lot of fun activities, and if I have any problems, I can discuss them with the teachers immediately. I'm very glad I chose this school.
Country of origin
Indonesia
School
Kyoshin Language Academy Kyoto-Chuo School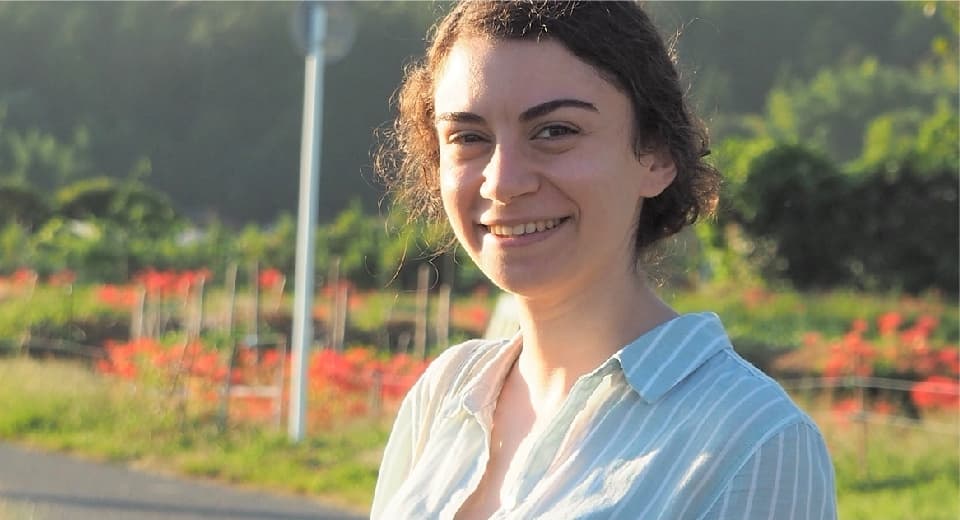 I love living in Kyoto. Kyoto is not a super busy city like Tokyo or Osaka, so I can enjoy a relaxed lifestyle while studying here. There are many cafes where you can study, and Kyoto has a lot of natural beauty. There's a large park next to my school, which is perfect for relaxing, studying, or eating lunch when the weather is nice. At my school, Kyoto Japanese Language School, the staff and teachers were very kind to me from the moment I entered the school. And Kyoto is a town with a lot of students, which makes me feel safe.
Country of origin
Lebanon
School
The Kyoto Center for Japanese Linguistic Studies, Kyoto Japanese Language School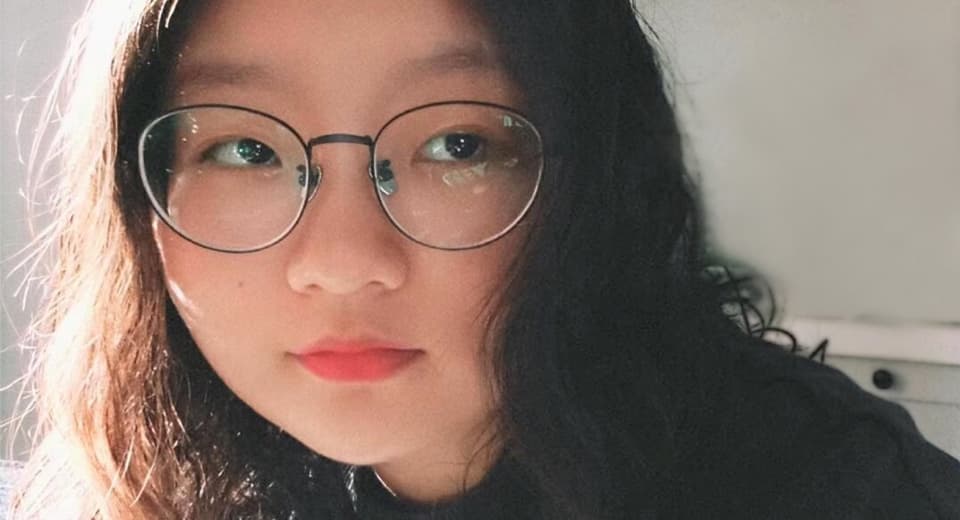 The main reason I chose to study in Kyoto is the city's long history and culture. I majored in drawing and painting, so going to school in Kyoto felt more inspiring to me than a larger city. During this last year of living in Kyoto, my teachers at Academy of Kansai Language School helped me in so many ways. I was a little anxious, especially when I first arrived in a foreign country all by myself. My teachers always helped me—not only in my Japanese studies but also with aspects of daily life. I'm very glad that I chose this school.
School
Academy of Kansai Language School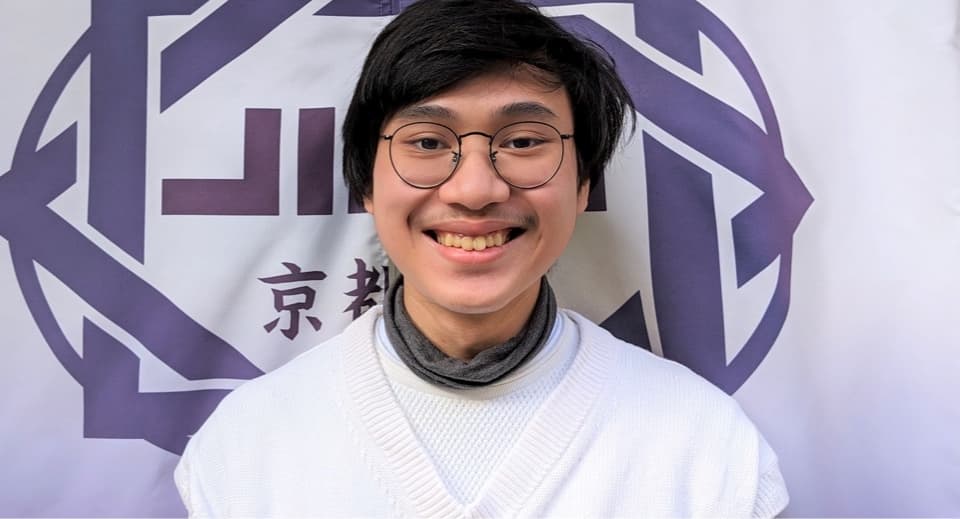 Amongst its splendid tourist attractions, Kyoto isn't just a place for recreation, but a wonderful place to learn. The people are always nice and friendly creating good opportunities to improve my Japanese. I really felt glad choosing Kyoto as a place for studying when walking around the city for the first time. Personally, Kyoto has a perfect balance between urban and nature. While you'll be able to walk around the bustling city and enjoy numerous entertainments, the city offers quiet, peaceful locations surrounded by nature, perfect for learning or just a change of mood.
Country of origin
Indonesia
School
Japan International Language Academy
Key points when choosing a school
Each school has its own unique programs—not only improving your Japanese language skills, but also offering cultural experiences and courses to prepare for your goals after graduation. Try to find a school that offers programs that match your own goals and interests.

02

Tuition fees and scholarships

Tuition fees vary depending on the school, program, and length of study. Some schools offer scholarships or tuition assistance, so if you need assistance, check with each school before selecting one.

There are various different sizes of Japanese language schools in Kyoto, ranging from small, homey schools to large schools with campuses in other cities. Choose the school that best suits your own personality and goals.

04

Support for transitioning to higher education

If you intend to enter a university or vocational school after graduating from a Japanese language school, look for a school that offers courses to prepare for the Japanese-Language Proficiency Test (JLPT) and Examination for Japanese University Admission for International Students (EJU), which are required for higher education.

If you intend to find a job in Japan after graduating from a Japanese language school, look for a school that provides you support for finding employment. It is very encouraging to have support from your school for interview preparation, company visits, job hunting seminars, etc.

If this is your first time living in Japan, you will find it reassuring if your school has staff who can suggest dormitories or apartments and provide counseling on daily life issues. Some schools have non-Japanese staff too, so please check with the school.
Japanese language schools in Kyoto
When deciding on a school, it is important to contact the school directly to check whatever you want to know. There are many Japanese language schools in Kyoto, so find the one that best fits your needs!