Working at ROHM Semiconductor: An American Girl in a Japanese Company
On Job Hunting Values
Q: What was something you tried to focus on in your job hunt?
A: Going to visit a bunch of different companies, at information sessions and through internships. I also tried to talk with a bunch of people who had been through the process before me. With an internship, I was able to see the sales and manufacturing processes, and see exactly what the company did.
Many students may not have a lot of time because of their schoolwork, but in my case, I had enough time to go and check out a bunch of companies. I even went to see a kimono seller!
To be honest, sometimes I felt a bit overwhelmed, but I wanted to see what different jobs were like before I made my final decision about applying.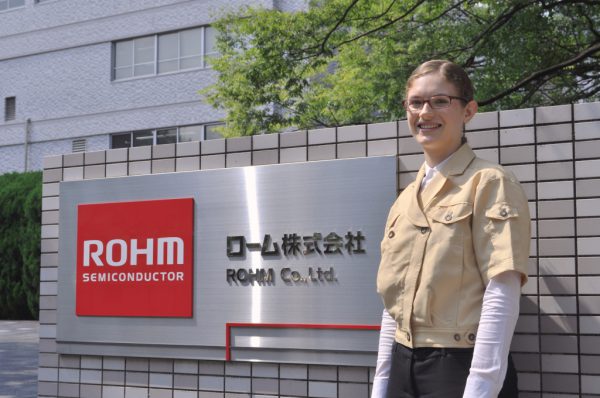 Q: What do you think is unique about working in Japan?
A: In my case, even my father worked in a Japanese company overseas, so to be honest, I don't really know what companies are like in other countries. I also went to university in Japan, and a lot of the upperclassmen I looked up to ("sempai") were Japanese, so in many ways I didn't really feel a big cultural gap. That may make my situation a little different from some other international students, but I think it also gave me a lot of benefits [when it comes to working in Japan].
I guess you could say that being able to experience multiple departments is fairly unique. In other countries, people often work in a field related to their field of study, but in Japan you're able to work in different fields. That's one unique point.
There are also lots of books and other information available about business manners in Japan, so even international students can find out a lot about the culture in Japanese companies before they enter. Putting them into practice is a different issue! (laughs)
Q: What would you say to other international students studying in Japan?
A: Japanese language ability isn't everything, but it's a very important thing to have. I think Japanese companies are looking to hire a variety of different students, so I suggest students study up on different aspects of Japanese while they're still in school and enjoy taking a look at a variety of different companies. Also, take care of your health during your job hunt!
There you have it! Looking to learn more about job hunting in Japan? See below for more information:
Job-Hunting in Japan 101: An overview of the system in Japan
My Japanese Job Hunting Experience: Hear from a French student about his successful job search
All About Japan's "OB Houmon": a How-to Guide for International Students Job-Hunting in Kyoto
What is the SPI test, anyway? A Guide for International Students Job Hunting in Japan