Working at ROHM Semiconductor: An American Girl in a Japanese Company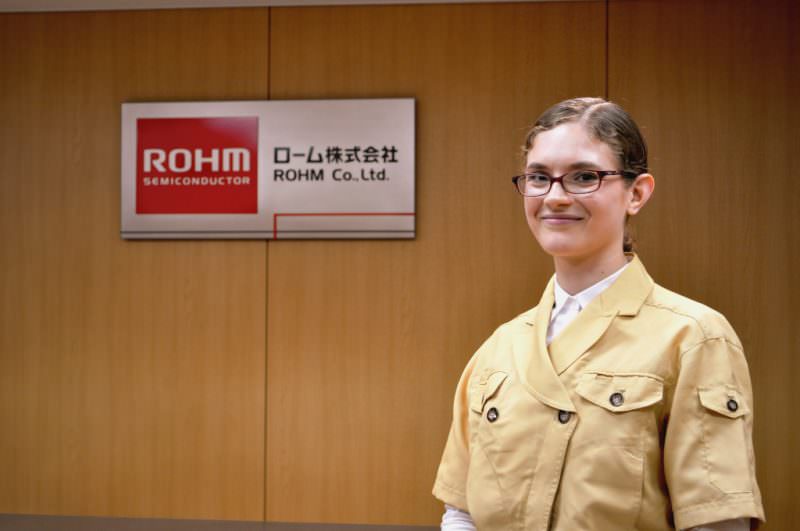 Japanese students have a wealth of options when it comes to older students to ask about their job hunting experience. International students, however, don't have as many role models when it comes to other non-Japanese people like them, who have successfully found work in international companies.
Study Kyoto went to speak with Maria Platt, a former international student who now works at ROHM Semiconductor to share her experience with you!
On the Job Hunt in Japan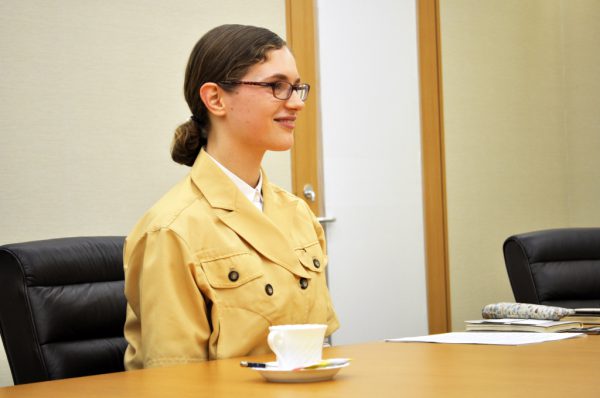 Q: What made you choose a Japanese company? What benefits did you see for your future career? (We're starting out quite intense! (laughs))
A:  I was raised speaking both English and Japanese, studied in both languages, and I went to university in Japan. When I was considering where I'd be most able to make use of both languages, between the US and Japan, it seemed to me that I'd have more chances to use both at a Japanese company.
Q: So you were mostly looking at Japanese companies in your job search?
A: I actually didn't look at any foreign companies!
Q: Did you have a location preference? Did you look at companies in other parts of Japan, too?
A: I did look in other regions of Japan. However, the fact that my company is located in Kyoto was a positive point for me. I focused my search in the Kansai area. That also mean I could keep down transportation costs when I was traveling to interviews and information sessions.
For its size, Kyoto is a city with a high population of international students, and there is opportunity to make many connections. Another factor for me is that my family is nearby in Osaka.
Q: Was it important to you that there be other non-Japanese employees at your company?
A: It was something I was curious about, but to be honest that kind of information is hard to find. So I just went to see a bunch of different companies.
On Her Job Now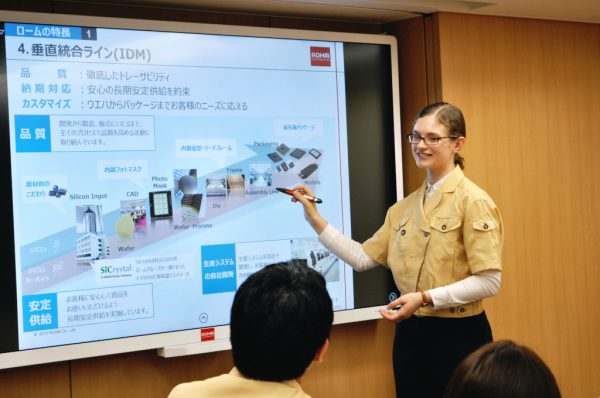 Q: What made you decide to work at ROHM Semiconductor (ROHM Co., Ltd.)?
A: I had mostly been looking at business-to-business manufacturing companies during my job search, mostly because I was interested in Japanese manufacturing. I was interested in business-to-business operations because I wanted to interact with industries with which I wouldn't have a chance to interact in my daily life. On top of that, I was also interested in a job that centered on people, and interactions with people. Here at ROHM I was told I may have the opportunity to work in Human Resources..
Q: What kind of job are you doing now?
A: I'm a part of the Company Administration Group, which does a lot of administrative and human resource-related work. My job is to manage our company organization. This includes updating the HR database so that the systems we use within the company continue to function after organization changes and personal rearrangements as well as answering to surveys concerning the personal in our company.
I didn't know about this group before I entered the company, but when I was doing my training after I joined, I learned more about the work they did there and became a lot more interested. I was really happy when I ended up being placed there.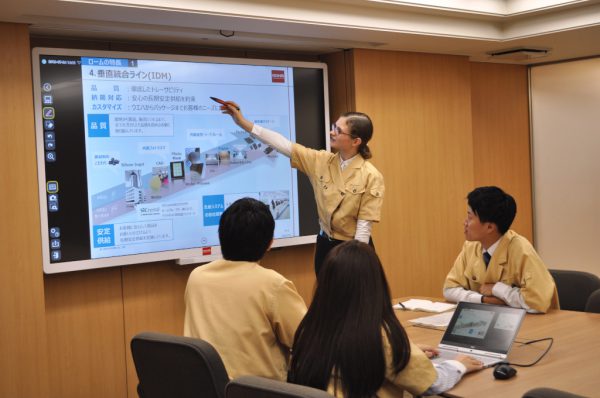 Q: What kind of training did you have when you entered the company? Could you choose what to train in?
A: When people enter the company, they start with new employee training, which everybody takes all together. We learn about how the company works, participate in lectures and workshops, and learn about business manners. The most interesting part was a chance to simulate an experience of the actual job in a very interactive way.
After that, people have specific training for their individual job placements. I was trained in HR. Right now I'm being trained in quality control. I don't get to see much of the manufacturing side in my usual work, and there are some aspects of quality control that I can use in my own work every day, so I'm enjoying it.
When people first join, they have on-the-job training, which is led by a more senior employee. We also have a mentor program that matches you with a more senior employee who works in an outside, but related group, and we have chances to talk with them. It's also a good chance to get to hear about what people do in other groups!
Q: What is the job application process like?
A: International and Japanese applicants alike go through the same process. After applying with an entry sheet, I had my first interview and an SPI-like test. In the second interview, I was interviewed by someone from the department I was applying to. The third interview is the last one, but before that I had an opportunity to sit down and talk with some of the current employees in the department I applied to. That was something that didn't happen at the other companies I applied to!
Q: Were you able to request a particular department to work in?
A: Applications for engineering, sales, and administrative positions are all separated from the beginning. I applied in the administrative section and requested an HR position, but you won't always get your choice.
Depending on personal consciousness and company policy, it's possible that you may be moved to a different department someday, too. (Those who choose to can also volunteer to work at overseas offices!) ROHM also has the job rotation system for young employees in order to obtain a wide range of work experience and cross-cultural experience.
I really recommend that students who are job-hunting ask companies about their policies on job rotation, etc., because it really varies from company to company. If possible, they should talk with older students, too!
Q: Was finding a job related to both English and Japanese important to you?
A: My visa requires that I work in a company related to my studies/specialization, so I wouldn't really be able to work at a company that only focuses on Japan. My work here has me interacting with overseas offices, too, so it's related: I studied international relations with a specialization in international politics and law.
Whether you're talking about the relations between countries or the relations between companies, I think there are a lot of points in common!
I've also been learning about some laws related to human resources recently, too, so that's another point where I'm using my studies at my job.